Rubber Duckies Are Not The One (If You Hate Bacteria)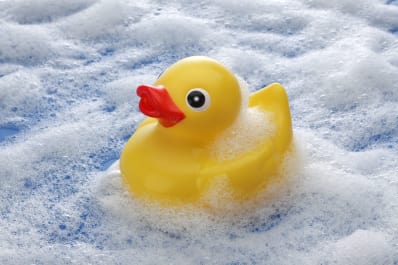 (Image credit: sumire8/Shutterstock)
Every once in a while we come across disappointing bits of information about some of our childhood favorites. I'm sorry to say, today is one of those days.
According to TIME, a study published in the journal Biofilms and Microbiomes showed that the rubber duckies that have kept kiddos entertained during bath time for generations hoard "potentially pathogenic bacteria." Swiss and American researchers discovered that 4 out of 5 of the toys examined carried bacteria that, when squeezed, released Legionella and Pseudomonas aeruginosa into the water, forms of bacteria that are "often implicated in hospital-acquired infections."
The research was done by the Swiss Federal Institute of Aquatic Science and Technology, ETH Zurich, and the University of Illinois as part of a bigger initiative to conduct research into household objects.
"While certain amounts of bacteria can help strengthen kids' immune systems, they can also lead to eye, ear and intestinal infections," according to researchers. They went on to say that if manufacturers began "using higher-quality polymers to make the ducks, it could prevent bacterial and fungal growth".
While the team of investigators haven't made any official recommendations, TIME pointed out the water-tight rubber duckies on Amazon's baby bath toys list that are made to prevent mildew.
h/t Time