The 6 Things to Plan for In Case You Run Out of Room in Your Moving Truck
We independently select these products—if you buy from one of our links, we may earn a commission. All prices were accurate at the time of publishing.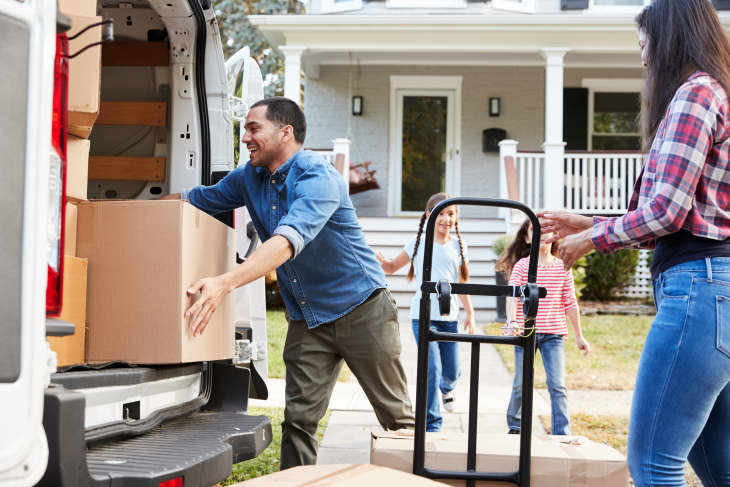 Our big interstate move loomed on my family's calendar for so long that it felt similar to whenever I was in the path of an impending hurricane. I knew it was coming, I couldn't do anything to stop it, and I could only prepare as much as possible.
When our moving day hit, it started off with the arrival of two of the biggest trucks from a moving company we'd decided to use, which based their sizes on the listing photos we provided. Things were going great in the beginning. But it wasn't until the first truck was full and the movers realized how much they still needed to fit on the second truck that we knew we had a problem. I was warned that I may need to start "deciding what was really important to keep," which is not something anyone wants to hear at this point in the process!
We'd sold or gotten rid of a good amount of our things prior to moving day, including two bunk beds, a queen bed frame, two large armchairs, and more. The prospect of picking and choosing what to bring, and then the dilemma of what to do with what we couldn't bring, was overwhelming. 
Once we low-key panicked for a bit, my husband decided to rent another truck that he would drive up to our new home in Knoxville. (The initial plan had been that the movers would drive the moving trucks, he would drive the van with a few of the kids and one of the dogs, and I would drive our car with the remaining kids and dog. Now he would tow the car behind the U-haul he rented.) 
You'd think with this third truck we'd have been fine, but as soon as it got close to capacity, we realized we still didn't have enough room for everything we initially planned to take with us. In order to safely close the third truck, we had to leave behind some larger items. This included our wheelbarrow, our charcoal grill, and our washer and dryer. 
And yet, I don't feel all that bad about making this choice. Sure, I would have loved to have our charcoal grill, since my husband makes the best baba ganoush I've ever had with eggplants he slowly smokes on there. The wheelbarrow was a little sad to say goodbye to, given that it was a Father's Day present. And, yes, I wish I could have kept our washer and dryer. 
However, moving washers and dryers is complicated. The drum mechanism can easily get off-kilter, and that upsets the entire balance of the machine, resulting in costly repairs. We ended up leaving them with the new owners as part of a trade involving a wall we hadn't been able to repair. So, it all worked out in the end, even though it was stressful at the moment. 
Given my hindsight, these are the six things I'd recommend to others who are planning a move, in case you run out of room in your moving truck:
Have some extra money budgeted for unexpected moving expenses, like a whole additional moving truck!
Make a contingency plan for who will drive which vehicles in the event that you need another driver. 
Purge as much as you can before your move. Yes, even the beloved grill.
Have a mental list of what you can still leave behind if you must. 
Make a plan for what to do with any items you might need to leave behind, such as arranging a donation center pickup. 
Plan to leave a day or two before you need to actually be out of your house if you can to allow time for pickups. 
Either way, do what you can to prepare for the worst, and then try to roll with the punches. Moving day is never easy, but hopefully, you can find solutions that work for you. If my family could make it happen, so can yours!