Russell Crowe's Divorce Auction Contains Tons of Movie & Music Memorabilia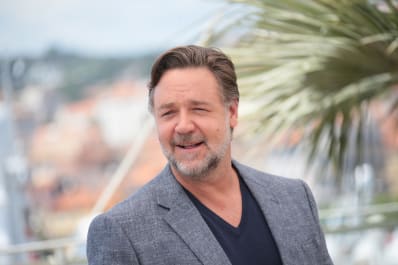 (Image credit: Denis Makarenko/Shutterstock)
In the latest missive from the Cosmic Guide to Celebrity Uncoupling, Oscar-winning actor Russell Crowe and his soon-to-be-ex wife Danielle Spencer are hosting a Divorce Auction through Sotheby's Australia.
The amicable pair is taking a very quirky yet KonMari approach to making their 2012 separation permanent, with Crowe posing on the cover of the April 7th auction catalog looking every bit the parody of The Most Interesting Man in the World. Showing their good humor about the split, Crowe and Spencer chose the date because it's not only their wedding anniversary but also Crowe's birthday.
"I think she feels the same way I do in regards to just moving on things that help create space for the future," Crowe told Australia's Daily Telegraph newspaper. "On the practical side, this collection probably equates to three rooms full of things I'll no longer have to care for, document, clean, tune, and insure."
(Image credit: Sotheby's Australia)
Playing the auction off as if it's one of Crowe's movie premieres, "The Art of Divorce" auction catalog is a would-be tragic rom-com of a romp through the couple's nine-year life together while the actor was at the peak of his career, including priceless collectibles, movie set artifacts and decor, and rare antiques.
To the delight of true film buffs, the catalog features on-screen mementos from Crowe's films dating all the way back to 1991, with a collection of props and costumes from his character Andy in the film Proof, through to his most recent films. Highlights include: several swords, pieces of armor, not one but two life-size prop horses and a fully functioning Roman Chariot replica from Gladiator; sporting equipment and uniforms from The Insider, Mystery Alaska, State of Play, The Next Three Days, and Cinderella Man (plus a huge assortment of real-life international cricket team jerseys, cricket uniforms, cricket bats, cricket art and field memorabilia, a plaster cast of Muhammed Ali's actual face, signed baseballs, vintage lawn tennis and greyhound coursing trophies, signed swimming caps, and hand-built motorcycles). There are also period costumes from the film sets of Master and Commander, 3:10 to Yuma, Robin Hood, Les Miserables, and Adventures of Don Juan.
(Image credit: Sotheby's Australia)
But interior design lovers might swoon more over the antiques, including a pair of campaign-style bentwood chairs and a Baltic pine sideboard (both used in the film The Water Diviner), two 18th century painted Italian leather screens, antique Singer sewing machine and a Cretaceous period dinosaur skull. Fine art fanatics might prefer the several oil paintings from collectible artists like Margaret Olley, Charles Blackman, Robert Dickerson, Sidney Nolan, Norman Lindsay, George Browning, Arthur Boyd, Penleigh Boyd, Dale Frank, J.A. Turner, and many more.
Music snobs will go ga-ga for the collection of rare guitars, including models from Les Paul, Fender, Gibson, and Gretsch, plus vintage memorabilia from Johnny Cash and June Carter — not to mention several antique violins and bows. The most expensive piece in the collection is actually an 1890 violin that was used in Master and Commander, which — according to The Daily Beast — might go for as much as $140,000, complemented by an entire section of authentic maritime antiques.
(Image credit: Sotheby's Australia)
Not to be undone, Crowe's wife Spencer has her own very significant collection of "ex-boyfriend jewelry" available for auction, including diamond and precious stone jewelry pieces worth between $1,500 and $100,000 each, accompanied by the couple's combined collection of fine watches from Cartier, Tiffany, Breitling, Montblanc, Rolex, Chopard, Chanel, and more.
The total value of the collection is estimated to be as much as $2.8 million. Bidding begins at 6 p.m. Sydney time on April 7th, 2018 through Sotheby's Australia.