Rustic Modern Workspace: Get the Look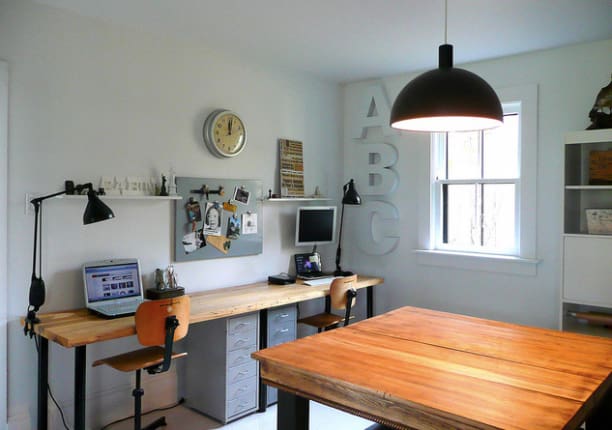 As owners of Etsy shop The Vintage Cabin, Becke and Lee have an eye for cool second-hand pieces that can warm up a modern home. Their workspace balances vintage industrial style with warm wood details and the occasional inexpensive IKEA find. If you're looking for a similar look, we've scouted out some good products.
Table, Desks, and Chairs
Barn Light Electric
This online store has an amazing selection of industrial/rustic pendant lamps, but they also stock some very nice heavy-duty furniture for workshops. This Vintage Industrial Workstation ($695) has a thick butcher block work surface.
IKEA
Becke and Lee made their desk from a wood slab from a local mill, then added inexpensive table legs from IKEA to complete the piece. If you don't have your own local mill nearby, pair an IKEA counter with legs. Shown: VIKA AMON/ VIKA CURRY Tabletop with Legs, starting at $34.
Get Back Inc.
This Connecticut store's prices are what you'd expect from a well curated, well marketed antique shop (ie high). For other options, see related resources at the end of this post. Shown: Pair of 2 Vintage Industrial Bent Plywood & Metal Stools, price on request.
Lighting and Clocks
YLighting
You can find basic black pendants like the one shown above at every end of the pricing spectrum. On the high end, there's the AM4Z Pendant Light by Franco Albini, $1,305 at YLighting. A budget version is the IKEA 365+ Brasa Pendant for $50.
Lamp Boutique
For a black drafting lamp at a decent price, check CSN online shop Lamp Boutique. They have several options for clamp-on desk lamps, including this Grandrich - G-2518 BLK - Heavy Duty Swing Arm Architects Lamp Kit in Black, $64.
Etsy
Vintage clocks aren't hard to find on Etsy, as long as you're willing to try a few searches before landing on the exact right one. (Becke and Lee's shop is a good place to start.) This Vintage GE Industrial Factory Clock is available from HavenVintage for $64.
Storage and Accessories
IKEA
For storage, we again turn to IKEA, always a good place to shop the 'modern industrial' look for less. The Helmer Drawer Unit on Casters, $40, is a go-to product for home office owners everywhere. The drawers are convenient for paper and office supplies.
Three Potato Four
This webshop has a really impressive inventory of vintage signage — it's the perfect place to find that last piece that will pull the whole space together and give it personality. Shown: Transit Letter Sign: HELLO, $48.
Chiasso
Becke and Lee's metal pinboard looks like the inexpensive and attractive IKEA Spontan Magnetic Board, $13. If you're looking for something that can also store scissors and tools, Chiasso's Perforated Metal Board is a stainless steel version of pegboard for $64.
To see the full tour of this home office on Unplggd, click here. You can also tour the rest of their home on Apartment Therapy here.

RELATED RESOURCES
• 10 Industrial Chic Stores to Bookmark
• Best Industrial Chic Resources
• Industrial Office Furniture: 10 Sources
• 10 Vintage Industrial Stores for Conscious Consumers

Photo: Becke Gainforth