Sabrina's Small & Serene City Oasis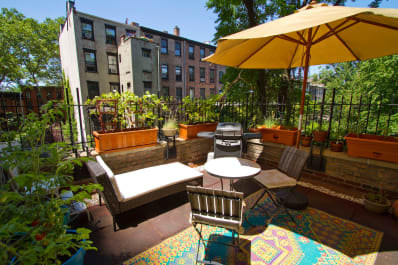 Name: Sabrina
Location: Fort Greene — Brooklyn, New York
This is my little oasis in New York. It's a 450 square foot studio and to make it seem bigger, I keep it very clutter-free. White and clear furniture keep up the illusion, to make room for the statement pieces like the sofa and the curtains.
Various nods to nature in the duvet cover, wallpaper, and cushion covers reflect my West Coast roots, while small Buddha statues and vintage Chinese advertising prints stem from my family heritage. I can spend entire days puttering in here or tending my veggie garden on my personal terrace, and it makes for a welcome and meditative home life!
Thanks, Sabrina!
• HOUSE TOUR ARCHIVE Check out past house tours here
• Interested in sharing your home with Apartment Therapy? Contact the editors through our House Tour Submission Form.