Sarah & Davey's Vintage Lodge Apartment
We independently select these products—if you buy from one of our links, we may earn a commission. All prices were accurate at the time of publishing.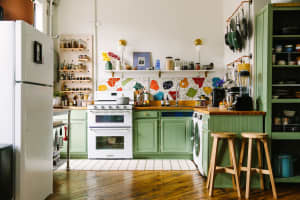 Can't-Miss House Tours Straight to Your Inbox
Keep up with our latest house tours each weekday with our House Tour of the Day newsletter
Name: Sarah Mac & Davey Riot
Location: Parkdale; Toronto, Canada
Size: 800 square feet
Years lived in: 1.5 years; Rented
Most Apartment Therapy House Tours offer a look inside the dwellings of folks who are happily settled — or newly settling — into their homes, but this tour is a bit of a swan song. By the time these photos are published, Sarah & Davey will already have left the cozy lodge-style apartment for a new place across town. It's a bittersweet move as their landlord decided to sell the house not long after they had fallen madly in love with its vintage cottage-y vibe. But the upside of this loss is that their new home will be significantly more spacious for the couple and their two adorable pups. Although they are sad to say goodbye to this unusual apartment, the couple was excited to be able to pay tribute to it by sharing with our readers just before the big move!
An abundance of wood and dark art sets a 1970s biker hangout-meets-Northern lodge mood. Judging by the plethora of taxidermy, you might not expect that Sarah is head chef at one of Toronto's top vegan restaurants, or that long-locked Davey is a skilled barber at a trendy barber and cigar shop, but not a single skull, fur or stuffed animal was commissioned. These animal lovers acquire second-hand taxidermy only. In fact, almost every item in their home is vintage, from furniture to motorcycle parts. Many of these "previously loved" pieces are heirlooms or flea market finds, and the couple is not opposed to scouting out garage sale and curbside treasures — like the massive sectional couch in the living room that they scored in a small town outside of the city for $5.
Drawing from a multitude of eras, Sarah & Davey's Americana-meets-natural-history-museum sensibilities include mixing baroque picture frames with biker art, mid-century modern lamps with Turkish rugs, and 1940s wood dressers and religious tapestries. 1930s tattoo flash blend unexpectedly with warm wood tones, for a style as colorful as it is dark. Details like the three-headed baby duck, fireplace-as-headboard in the bedroom, or unique wood panel drop-ceiling lighting in the kitchen provide never-ending visual intrigue and unmistakable attitude. And let's not forget those energetic pups – Monty & Saxon, who clearly aren't shy in front of the camera. When our shoot was over it was pretty difficult to resist the urge to crack open a bottle from their imported beer collection, throw on an old record and get cozy with the dogs before this home truly becomes a thing of the past.
Apartment Therapy Survey:
My Style: 70's classy biker hangout meets natural history museum.

Inspiration: World travel, bits from every era before 1980, old chopper magazines, beautiful things unique and old.

Favorite Element: The wood paneling and the fact that so much of our home is inherited or vintage.

Biggest Challenge: There is never enough wall space! Also the moral conflict of being avid animal lovers while having so many dead ones around. But we only ever acquire vintage taxidermy, nothing is ever new, commissioned or hunted.
What Friends Say: We rarely have guests over, our free time is so limited as it is, but when we do they say they spot something new every time!
Biggest Embarrassment: The tiny closet-like bathroom.
Proudest DIY: Davey just burned and stained a kitchen table for the new place & my dad carved the leather wrap for the steer horns – I'm pretty fond of that!
Biggest Indulgence: The pair of velvet paintings we found on Etsy & Bruce the Bear (a flea market indulgence).
Best Advice: Bare walls are the work of evil 🙂 Surround yourself with visuals you like!

Dream Sources: The estate sale of a millionaire 70's swinger with tons of black velvet, swag lamps, teak furniture & taxidermy – maybe a custom van too!

Sectional Sofa- $5 lawn find in Grimsby
Bruce the Bear – flea market
Vodka & Trinkets from Moscow
Steer Horns -family heirloom hand wrapped/carved by Sarah's father
Black Velvet Tiger – surprise find while picking up bookcase from a Craigslister
Cow Skull – Arizona flea market
Teak Coffee Table – family heirloom
Small Antlers & Boar Hide – Budapest flea pillow
Small Bone Crest – Prague
2 Medium Antler Racks – Abrahams Antiques
Teak Floor Lamp – curbside find
Panther Lamp – swap meet
Swag Lamp – $5 yard sale score
WW1 Bayonet – gift
Red Velvet Arm Chair – curbside score
PRINTS – Skull by Dave Glantz, 2 x Chopper Prints by Mitch Cotie, 6+pieces from 4 years of Montreal Tattoo Convention, Rock of Ages – flea market, Peacock lady by Billy Jamison, Jess Philips prints, David Mann prints, Framing by MONARCH, Toronto
Side Bar – vintage shop (contains hand me downs, gifts & souvenirs from Tokyo/Bangkok/Mexico/beer from around the world & Prison Art from Arizona Federal Penn, a prized bottle of Jack from Davey's tour with Motorhead – blessed with Lemmy's touch!
Propaganda Poster – Moscow street vendor
Framed Grumpy Old Man – Owen Sound flea market.
Family Pub Signs –
Sugar Skulls – various flea markets
Tiki Mugs – Ottos Shrunken Head Bar, Manhattan
Hawaiian Figures – yard sale, Montreal
Dog Portraits – by Anthony Alves, commissioned
Dresser – Craigslist
Vanity – Craigslist
Union Jack flag – found
Frank the Deer – Barrie swap meet
Hoof Lamps – Owen Sound Flea Market
Skunk & Weasel & Goat Skulls – Abrahams Antiques, Toronto
Fake Fireplace – curbside find
Black Velvet Matador & Sombreros – curbside find
Black Velvet Paintings – by Frank Frazetta & Boris Vallejo, Etsy
Boris Vallejo '80 s Star Wars Posters – Etsy
Beer Sign – vintage
Red lamp-$10 vintage shop
Turkish Lamp – Istanbul Grand Bazaar
Sconces & Candelabra – Estate auction
Old chopper Movie Posters – reprint
Target – Budapest gun range
Pit Bull Print -gift
Lemur Print – art auction
Towels – dollar store, Tokyo
• HOUSE TOUR ARCHIVE: Check out past house tours here.
• Interested in sharing your home with Apartment Therapy? Contact the editors through our House Tour Submission Form.
• Are you a designer/architect/decorator interested in sharing a residential project with Apartment Therapy readers? Contact the editors through our Professional Submission Form.
Updated daily with fresh tours full of photos for you to pin & enjoy!