5 Ways to Save Money on Your Next Move, According to Real Estate Pros
We independently select these products—if you buy from one of our links, we may earn a commission. All prices were accurate at the time of publishing.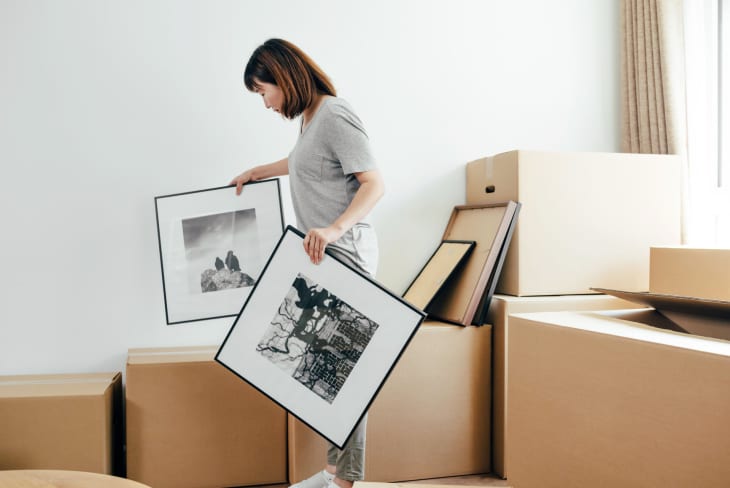 It's easy to underestimate how much money you'll need to move into a new home. I know the last time I moved, my actual moving costs were double what I thought they'd be (hello, offering to buy everyone who helped us both lunch and dinner). There are a slew of little charges that pop up over the course of a move, making it easy to find yourself over budget before you've even carried your first empty box out for recycling.  
To help you plan, a few real estate professionals have given us a heads up on what costs you can expect and how to avoid them.
Think ahead if you're hiring movers
Movers are well worth the splurge if you can afford them, especially if you're moving somewhere with a lot of stairs. Unfortunately, the savings your back and knees experience won't transfer to your bank account. Jamie Safier, a luxury real estate agent with Douglas Elliman says, "Many moving companies will charge anywhere from $50 to $200 per flight of stairs, depending on the length and how much they're moving." To offset these costs, ask about the fees ahead of time and then speak to your building manager about using the service elevator. Even if they charge you a small fee to use the elevator, it may bring down your overall cost.
Apply for your own permits
Some cities will charge you for a street parking permit during your move. Pietro Coco, owner of Ivy Realty Group, explains that permits can start at $25 and go up from there. But there's a way to lower your overall moving costs if you've opted for movers. "Movers will offer to get the permit for you, but they'll charge you more money for the process," he says. To save money, skip the costly convenience of having someone else do it and apply for the permits yourself. 
Remember that time is money
Permits and parking aren't the only surprises you may run into, according to Daniele Kurzweil, a real estate agent with the Friedman Team at Compass in New York City. "Many buildings in the city have very strict policies about when you can move into or out of a building." Those hours are typically between 9 a.m. and 4 p.m., which means you may find yourself paying movers for down time, or having to spread your move out over multiple days. Find out if there are fines for moving during off-hours so you're not hit with extra charges—or forced to pay your movers to store your belongings overnight—in the middle of your move.
Skip paying double for insurance
If you're renting your own moving truck, call your insurance agent before you sign up for the rental company's insurance. Jonathan Alpart, a real estate agent with Fathom Realty, says you should ask the agency that covers your existing home and auto policies if you'll even need additional coverage before purchasing anything. Most major rental companies charge at least $14 for a basic policy, and get more expensive based on how long and how far your move will take you. That money may seem insignificant in the grand scheme of things, but that's $14 that you could be putting towards disinfectant wipes for your new bathroom. 
Don't forget about the cost of switching on utilities
If this is the first time you're moving away from home, or it's been a while since you've moved, you may have forgotten to pencil utility activations into your budget. G. Brian Davis, the co-founder of SparkRental, explains, "Some utility companies charge either a one-time activation fee, a refundable deposit, or both when customers turn on utilities in a new home." To keep costs low, shop around and see if anyone offers a discount for transferring existing service instead of starting fresh with a new company. 
Even when they don't require upfront payments, you may still catch a few surprise costs. April Struhs, a real estate agent with Schmitt Real Estate Company, says that sometimes you can receive bills up to a month later with leftover charges from your last home. So, don't forget to factor in those end-of-service costs from your former home when estimating your first month's bills.