Say Yes to the Mattress: Finding the Right One For You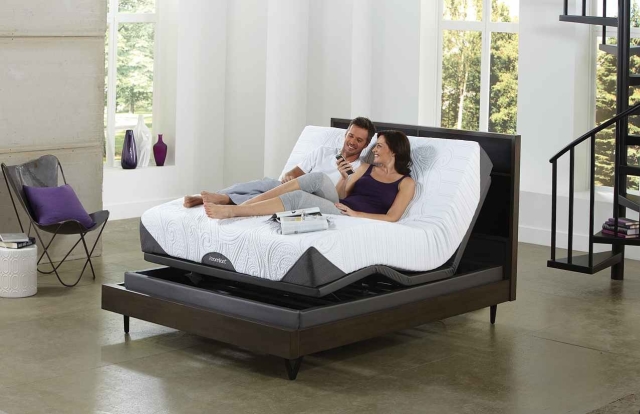 Choosing the right mattress is like finding the perfect wedding dress. You spend countless weekends hunting for a high-quality option that's both comfortable and personalized to your body without sacrificing style. But you only wear a wedding dress once – a mattress actually needs to work for you night after night. To make the decision easier, Serta has made a mattress that can adjust to whatever your comfort needs are. You no longer need to "try on" dozens of beds to find the one. Here's why you can say yes to the mattress.
We get it – it's a big commitment. Some of us (ahem) have slept on the same mattress since college. But we all know the stats on how much time we spend in bed over the course of our lives. And as life gets busier and more stressful, getting a good night of delicious, restorative sleep becomes less of a luxury and more of a basic necessity.
Meet your new sleep savior. Serta's new mattress technology responds to your body's wants and needs without even doing a thing. Whether you're looking for a bit of soft comfort or firm yet gentle support, it keeps its cool when things get a bit heated.
You've probably already been sold on the superiority of memory foam, but then you've balked because you're heard how hot it can get at night. So for their iComfort Sleep System, Serta created Cool Action™ Dual Effects® Gel Memory Foam. This dream machine has the world's first memory foam that offers both amazing support and cooling gels, which cuts down on nighttime restlessness while keeping the body truly comfortable.
And with their adjustable foundation, you can even adjust the head and foot of your mattress to find the perfect position, alleviating pressure on your back, neck and shoulders, and removing yet another common barrier to the perfect night's sleep.
The premise of Serta's hilarious new ads is that you'll be so comfortable in your new bed that nothing will really bother you. Sign us up:
Having trouble with commitment? Many Serta retailers offer a 120-day in-home trial, allowing you to exchange your mattress if you determine you need a different level of comfort. Ask your local retailer if they can give you that option.
Have you found your dream mattress?
Visit Serta.com to finally get a better night's sleep!