Scandinavian-Style Shared Room: Get the Look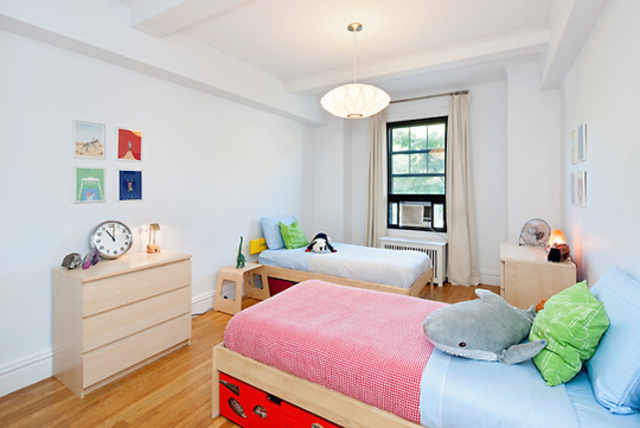 Laurie's East Village home is an example of how Scandinavian style (white walls, light wood furniture) can make a shared kids' room feel calm and clean. The layout of the space is straightforward and simple, and the furnishings are a mix of affordable IKEA basics and modern classics, like the Nelson light fixture. Here are a few sources — beyond just the Swedish megastore — for a similar look.
IKEA basics that won't break the bank
IKEA
The Malm collection is one of their most popular and basic lines of bedroom furniture — to quote a line from the film Crazy People it's "boxy but good." This Malm Three-Drawer Chest is $80 and made from particleboard with wood veneer.
IKEA
The Benjamin Stool is one of those IKEA classics that for whatever reason they stopped selling. You can still find these sometimes on craigslist or eBay. Another popular and inexpensive solid-wood stool is their Bekvam Step Stool, $15, which can double as a bedside table.
IKEA
The Fjellse Bed is one of the most affordably priced beds on the market for $30. It's a very basic design made of inexpensive pine wood. Not exactly heirloom furniture that you pass down to your kids, but it's wood and it's good for the price.
Alternatives to IKEA furniture
Hoot Judkins
Located in Redwood City, California, this unfinished furniture store delivers to the Bay Area. They sell solid wood furniture in pine, maple, and oak, and most styles are traditional but basic. This Solid Maple Unfinished 5-Drawer Chest sells for $500.
Saah Furniture
Based in northern Virginia, this unfinished furniture store sells to the DC area. They accept phone orders but recommend shopping in person, and they deliver locally. They have a section of children's furniture, including this Spring Creek Blanket Chest.
The Grove Furniture
Based in New Jersey, the Grove has an in-person and online shop, and they offer free shipping with restrictions in the lower 48 states. This Shaker Bed is currently on sale for $709 (marked down from $852).
Giggle
With multiple locations around the country and an organized web shop, Giggle is a good resource for online comparison shopping. This is their Robo Stool, a cute bentwood piece with striping on the reverse side, $158 for a set of two.
Modern lighting, accessories, and artwork
YLighting
Designed by George Nelson in 1947, this Saucer Criss Cross Lamp is a classic mid-century piece. It sells for around $300 at multiple Mid-C stores including DWR, Modernica, and online retailer YLighting. (They're actually having a bubble lamp sale right now.)
Target
The problem with fabric underbed storage boxes is that they collect dust so easily. A metal or wood unit is sturdier and easier to clean. This Teen Trends Underbed Storage Drawer is currently available through Target.com for $170.
West Elm
Their basic cotton curtains are reasonably priced and simple enough to look good in a Scandinavian-style room. These Cotton Canvas Window Panels come in short, medium, and long sizes, starting at $20 per panel.
Three Potato Four
Artwork goes a long way towards personalizing a space, especially when you're starting with a simple, streamlined aesthetic. These vintage Blue Metal Signage Letters (various prices) would be a nice way to add some character to an IKEA-heavy kid's room.
Basic bedding and pillows
Land of Nod
This Chicago-based store is a good source for kid's room basics. Their chambray sheets are made from 100 percent cotton and come in a few different basic colors. This Light Blue Twin Set sells for $69, and it coordinates with their collection of plaid quilts and coverlets.
IKEA
Their selection of children's and twin bedding is so huge that it's worth a look and, like most things at IKEA, it's cheap. This Nypronos Duvet Cover and Pillowcase is a new design and sells for $25.
IKEA
They have a nice group of oversized stuffed toys that can double as pillows. This shark's Swedish name is Klappar Haj Soft Toy, and it sells for $20. They also have hippos, elephants, kangroos, tigers, and rabbits.
To see more of this home, click here.

Photo: Laurie