This "Schitt's Creek" Coloring Book on Etsy is Simply the Best
We
independently
select these products—if you buy from one of our links, we may earn a commission. All prices were accurate at the time of publishing.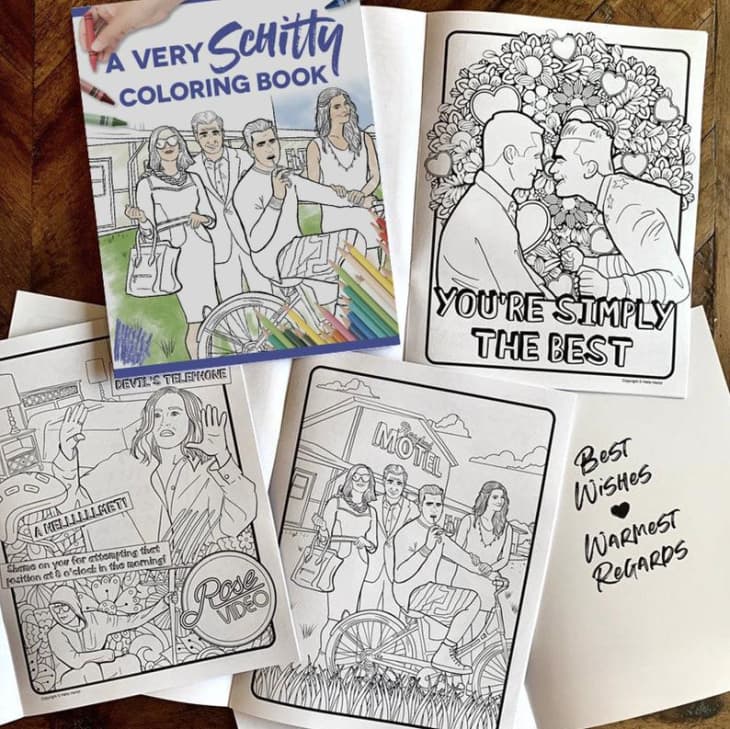 While you eagerly await the next season of "Schitt's Creek" to surface on Netflix (that is, if you're not already watching on Pop TV), you can now channel your energy into the pages of this comical coloring book.
Sold by Etsy store ShopHelloHarlot, this 10-page booklet titled "A Very Schitty Coloring Book" showcases some of the best moments in the show's history right before your crayons. Each page is uncoated and is one-sided to prevent marker bleed-through onto the next page so that no illustrations will go to waste.
The cover showcases the fabulous four: Moira posing with her big sunglasses and red lipstick, Johnny in his classy suit, David with his studious sunglasses (and comically on a bike), and Alexis being put-together and stylish.
While you don't get to see all the pages before purchasing it, you get a glimpse of the relivable moments to come: Moira trying to recite her lines for a wine commercial, David leaning in to give his boyfriend Patrick a kiss, and again Moira acting, this time as a crow. And the reviews don't lie, either! Many commenters agreed on the good quality of paper and ink as well as the extremely speedy shipping.
So while we wait for the series finale (already crying), let's fill these pages with color. And maybe buy a few extras to remember the Roses.