I Never Expected That a Quilt Would Keep Me Cool During Peak Summer 
We
independently
select these products—if you buy from one of our links, we may earn a commission. All prices were accurate at the time of publishing.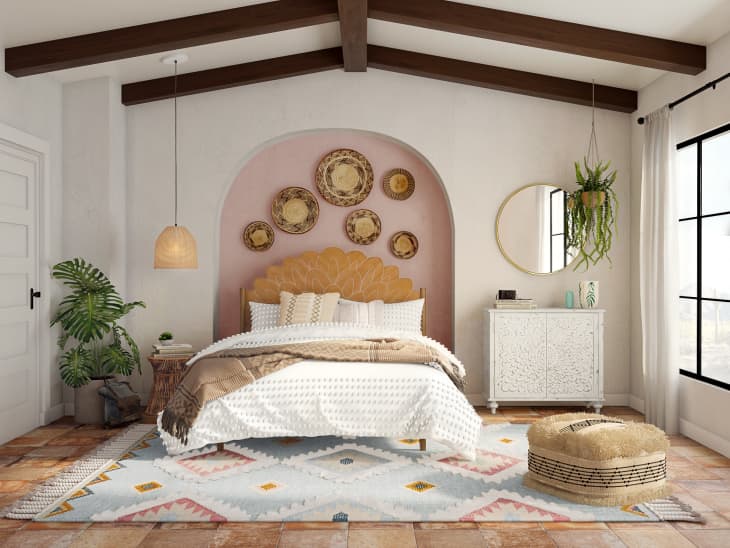 I'm a hot sleeper, so summer can be a particularly miserable time for me, sleep-wise. With the sweltering heat outside, I have to run my AC all day (and night!) long, which in turn creates an environment so cold that I've had to put on a sweater to remain comfortable in my apartment. 
Quick Overview
Why Everyone Needs the Schoolhouse Stillwater Floral Quilt
The Schoolhouse Stillwater Floral Quilt is a lightweight quilt that keeps me cool during peak summer temperatures. It comes in three sizes and three colors to match any type of bedroom vibe.
At night, wearing a sweater or sleeping with a comforter is simply not an option, given my tendency to overheat. I've tried using just a top sheet, but it's not thick enough to protect me from the chill of my AC. 
So what's a girl to do? Give up, which is what I did for a long time. But I finally got to kiss that discomfort goodbye once and for all after I came upon the Schoolhouse Stillwater Floral Quilt.
What's So Great About the Schoolhouse Stillwater Floral Quilt?
I never thought that the phrase "it'll happen when you least expect it" would ever apply to finding the perfect bedding — but alas, for me, it has. I found the Schoolhouse Stillwater Floral Quilt when I truly wasn't looking, thanks to an Instagram ad. I originally bought it purely for aesthetics, but ended up turning to it for relief when temperatures really started to increase in July. I was surprised and deeply grateful that the quilt managed to prevent me from both getting too cold or too hot while sleeping. 
This balance can be attributed to its material (100% cotton for breathability) and construction — there's no insulating layer like other quilts have for even more airflow. This all explains perfectly why I haven't woken up in a sweat since using this quilt. And even though it's "lacking" a layer, the Schoolhouse quilt still has a heft to it, providing a nice baseline warmth to safeguard me from the cold AC air. 
To top it all off, the materials boast an OEKO-TEX Standard 100 certification, meaning that the fabric is free of harmful substances.
I've washed my Schoolhouse quilt once since I've gotten it, and I was very relieved to discover that it held up well in the tumultuous environment that is my washer and dryer. It didn't shrink and the color didn't fade. The softness, however, did decrease, which was disappointing. 
The Schoolhouse Stillwater Floral Quilt comes in three colors, including Auburn, Juniper, and Red. I ordered Auburn and Juniper, and ended up choosing Auburn for its earthy vibes, which look great alongside my houseplants (see, told you I was shopping for the aesthetics!). Juniper is a great option too; the hues present in the green and blue flower pattern are very soothing. The quilt comes in three sizes, including a twin, full/queen, and king. 

So if you, like me, have been on the hunt for bedding to accommodate hot temps and an even hotter sleep, this quilt from Schoolhouse just may be the cure. 

Buy: Schoolhouse Stillwater Floral Quilt, $199