Sebastian's White Nursery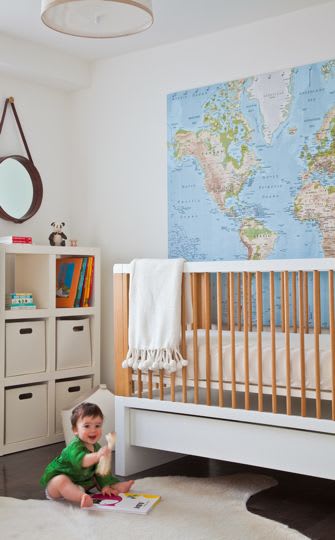 Name: Sebastian
Age: 19 months
Location: Brooklyn, NY
Room size: approximately 150 sq. ft.
With a boutique baby planner and concierge service behind its conception, this minimalist, white nursery was born out of a love for great design and a desire to blend seamlessly kids' and adult decor. The three women who run the planning business—Diana, interior decorator and stylist and mom to Chelsea, a fashion executive and Rachel, a pediatric physical therapist—together designed Sebastian's (Chelsea's 19 month old son) fantastic room.
Designing a nursery around a white palette is a bold move, but the women behind Sissy + Marley made it work beautifully. The neutral color allows for myriad changes in color scheme; it's easy to reinvent this room as Sebastian grows. Using an eclectic mix of high- and low-end pieces, from Ikea bookshelves to David Netto furniture, the group could splurge on their favorite pieces while saving money on others. For artwork, the trio framed pages from Andrew Zuckerman's book, Creature, and hung them in mosaic pattern on one wall and on an artwork rail on another. The entire effect is calming, bright, and open.
We asked Chelsea, Sebastian's mom, about the process of designing this nursery.
How would you describe the look and feel of this room?
I'd call it sophisticated little word traveler, bohemian chic, and the new minimalism. Both neutral and warm.
What was your inspiration for the design?
My goal was to create a room that my son could grow into and that would be a calm and soothing place for us to spend time when he was a newborn.
What is your favorite piece or element?
The Tamar Mogendorff deer head and the world map.
What was the biggest challenge decorating this room?
The size - would have loved to have more space to work with.
White is a rather unusual choice for a baby's room. What led you to use white as your main color?
I have a thing for white; my entire home is white with blue accents. It was sort of a natural choice for me. I think it always looks clean, crisp and modern. I love that I can change the color of the sheets, throws, and a few other things and it is a completely different look. I am a decorator and I know we will reinvent this room many times in Sebastian's life. I am sure he will soon be dictating the style direction.
Do you have any special techniques for keeping this room sparkling white? Have you had any problems keeping things looking clean?
I have a very active 19 month old and we haven't had any major disasters yet. The palette is actually easy to maintain. The rocker is white leather; we just wipe it clean (no stains set in). The cowhide rug is also great stains never set in. For the walls we love Mr Clean Magic eraser. The point is we designed the room to be functional - I want Sebastian to be able to live in his room and tear it up! We encourage it!
If money were no object, what's your dream source? Sebastian is lucky enough to have a very generous Auntie and Nonna and we were able to really fill his room with everything we could dream of.
Resources:
• Ben Moore decorators white paint
• Ikea Premiär World Map, $149
• Serena & Lily Leather Mirror, $295
• Tamar Mogendorff Deer Head, $395
• West Elm Cowhide Rug, white, $499
• Restoration Hardware Adler Pendant light, $89
• David Netto Cabine Crib, $1595
• Ikea Expedit Bookcase, $70
• Remodelista Pom Pom Blanket, $125
• Andrew Zuckerman Creature book, $37.80
• Freedom Polo Square Storage Box
• Monte Vola Glider, $995
• David Netto Cabine Changing Table/Dresser, $1595
• giggle Better Basics Organic Fitted Crib Sheet, $35
Thanks, Chelsea!
Images: Marco Ricca
Apartment Therapy supports our readers with carefully chosen product recommendations to improve life at home. You support us through our independently chosen links, many of which earn us a commission.