See My Artwork! Contest: Turquoise – 4th Place Tie
Our four in-house judges made final decisions over the weekend. Each judge awarded 5 points for first place on down to 1 point for fifth, and then everything was totalled up. The results we're largely unanimous but surprising. Here's the first of our day-long rollout. And the envelope please….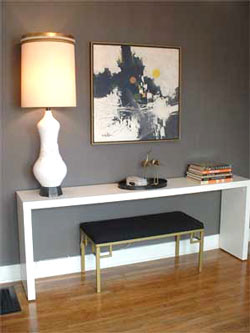 Jill – The placement and loving arrangement of objects–both on the wall and on the table– evokes order and beauty. It takes a special eye to buy art off eBay!
Alec – This shot is truly great and belongs in a glossy magazine. The work looks substantial and everything around it is beautifully merchandised. I'd love to be at a cocktail party here, but I'm not sure if it would hold my attention much longer than that.
SKGR – This one was hard for me. It's really well done, but it's not my style of art. The grey wall is a perfect background and the frame picks up on the bench. Overall, a strong sense of composition.
Maxwell – Turquois is glamorous and picture perfect, but a little cool for my tastes. I suppose I respond better to the warmer rooms. The wall is perfectly arranged but the art is a little random. Not totally convinced.
Published: Feb 13, 2006