Here's How You Can Visit Seinfeld's Apartment This Fall
We independently select these products—if you buy from one of our links, we may earn a commission. All prices were accurate at the time of publishing.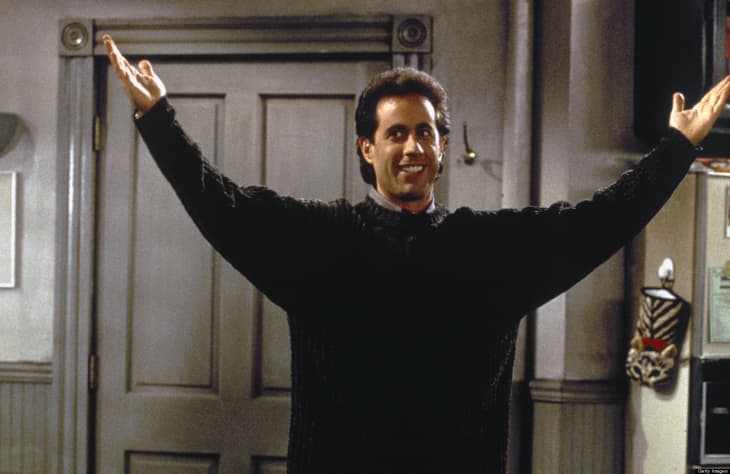 With all of the reboots happening in the 90s sitcom world, there's an obvious void from the show about nothing, aka Seinfeld. While there hasn't been any talk of the gang returning to the small screen, there's a Seinfeld Experience coming to New York City this fall.
Follow Topics for more like this
Follow for more stories like this
In celebration of the show's 30th anniversary, Superfly and Warner Bros. Consumer Products have curated an interactive exhibition for fans of Jerry, Elaine, Kramer, Newman, and George.
The pop-up will give attendees a "behind-the-scenes look at the legendary television show," according to Superfly. On display will be costumes, original props, memorabilia, set re-creations, and never before seen content from the show.
"We're thrilled to bring The Seinfeld Experience to life in an innovative way, combining nostalgia with immersive entertainment, and getting fans closer than ever before to the show and its beloved characters," said Jonathan Mayers, co-founder of Superfly, in a statement. "A show as iconic as Seinfeld should be celebrated with an experience that truly matches its legacy and enduring influence."
This isn't Superfly's first time putting together an epic Seinfeld exhibit. The creators hosted a similar experience at Clusterfest, in which ticket holders had some serious nostalgia as they walked through the Seinfeld apartment and were told to "sing your own slap bass intro while you slide like Kramer into our perfectly reconstructed Seinfeld apartment. Hang with friends on the couch, live iconic Seinfeld moments, yada yada yada!"
Aside from a massive fanbase who's thrilled for the upcoming pop-up, another person who can't wait is Jerry Seinfeld himself.
"Because I am Seinfeld, for a long time I was the only person to actually have the Seinfeld experience. Now, these crazy Superfly people are going to make it so lots of people can interact with our silly 90s TV show." He continued, "All I can say is, in the general context of the world we live in, this now seems completely normal."
The Seinfeld Experience is planned to open up its doors in the Gramercy neighborhood of New York City, and will operate 7 days a week through February 2020.