Sellin' Ellen: How DeGeneres Is Becoming the New Martha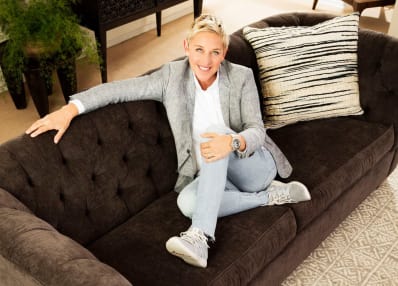 (Image credit: Thomasville)
Move over, Martha, there's a new mogul in town. Here's how Ellen DeGeneres has—in just a couple years—taken over our hearts, our homes, and our wallets.
Martha Stewart was not the first to to turn her name into a brand, but she's arguably one of the most successful and enduring. Over the years, the queen of domesticity has sold us TV shows, cookbooks, magazines, home goods, furniture, kitchenwares, paint, food products, pet gear, and even model homes—all bearing her eponymous brand.
Stewart, a former stockbroker and model, started writing cookbooks in the '80s, parlaying that into newspaper columns and TV appearances. Her magazine, Martha Stewart Living, launched in 1990, with the show of the same name debuting in 1993. In 1997, Stewart and business partner Sharon Patrick purchased all her various media ventures to create Martha Stewart Living Omnimedia. That same year, she launched her website and a catalog business, Martha by Mail—the first of many product ventures the company would pursue, eventually resulting in licensing deals with Kmart, Macy's, JC Penney, Staples, and more.
DeGeneres, on the other hand, started as a comedian in the '80s, became a household name with her sitcom Ellen in the '90s (not to mention her coming out on The Oprah Winfrey Show, and then her character's coming out in one of the series' highest rated episodes), and then returned to TV as a talk show host in 2002. She's played beloved amnesic fish Dory in Pixar's Finding Nemo and Finding Dory, hosted numerous award shows, and won more People's Choice Awards than anyone else. It's not too much of a stretch to say that everybody loves Ellen.
(Image credit: ED by Ellen)
That still doesn't mean it's easy to start a lifestyle brand, or to get people to buy your stuff. But DeGeneres has, and in under two years, her ED brand has grown and expanded from apparel and a few home decor items, to licensing deals with Bed Bath & Beyond, Thomasville Furniture, Loloi Rugs, Royal Doulton, and Petsmart. Though you could surely draw comparisons to other celeb-run brands like Goop, these licensing moves in particular are pure Martha.
It also looks like Stewart is taking a page out of Ellen's playbook—Martha's quite the comedian these days. Her wacky entertaining show on VH1 with Snoop Dogg is a hit, she gave a (pretty shocking) performance at the roast of Justin Bieber, and we were even a little surprised by her answers during a game of Never Have I Ever on Ellen's talk show. After her insider trading conviction, the Macy's-JC Penney-MSLO legal battle, and then the sale of MSLO, what else is there to do but laugh?
The sheer breadth of the Martha empire can't yet be matched by DeGeneres, but with the current breakneck pace of the ED brand's growth (four of the five aforementioned collaborations have launched just this year), it might not be that long until it does.
Want more Ellen? Check out the just-launched collaborations: