I Sent My Monthly Budget to a Finance Expert — Here's What She Told Me to Change
We independently select these products—if you buy from one of our links, we may earn a commission. All prices were accurate at the time of publishing.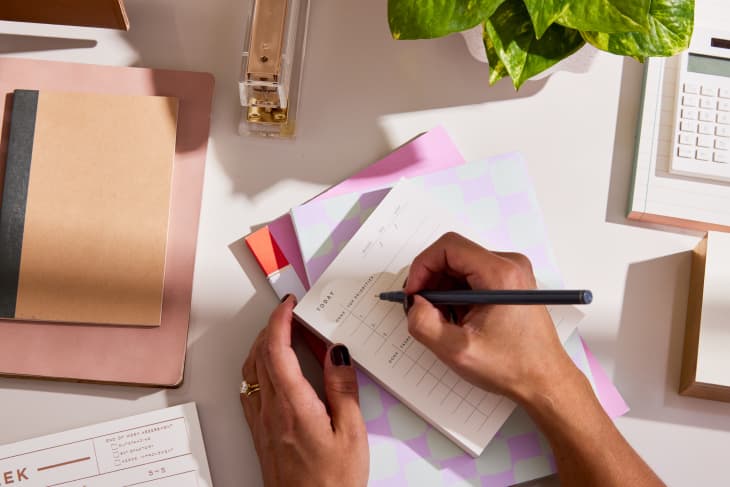 My biggest problem with budgeting worksheets has always been that the template examples are so neat and enviably straightforward. The columns are filled with round numbers earmarking your dollars, which may work if you have a predictable stream of income or your dog never figures out how to paw open the pantry door to eat a box of chocolates, which lands you at the vet with an emergency bill. (Note to self: Invest in child locks). 
Follow Topics for more like this
Follow for more stories like this
To a fault, I've always thought of my budget as so complicated that it would be difficult for a finance expert to analyze it. I'm a full-time freelancer and the amount of revenue I pull in every month varies by several thousands of dollars. Add to that a family emergency during the past year that's required me to scale back hours and some unexpected HOA assessments, and the Google Doc budget I rely on comes with lots of asterisks. 
But the truth is, everyone's budget is stacked with some wildcards. As I've grown my freelance writing business over the past several years, it's helped me to think of my budget as a guiding document with wiggle room rather than something that's written in stone — a privilege that I didn't have when I was earlier in my career. 
I asked Kimberly Palmer, a personal finance expert at NerdWallet, to give my monthly budget a lookover. It's good timing too, as the personal finance site just came out with a new survey that found three quarters of Americans don't feel confident about their personal finances for 2023. Palmer's first piece of advice for creating a financial plan for yourself is to take a good look at your spending and see where your money is going, how your budget has been impacted by inflation, and then make some tweaks to keep on the right track.
For some background, I'm self-employed and bought my home a decade ago when interest rates were lower than they are today and the market was far more approachable for a first-time buyer.
Here are four key takeaways from my conversation with Palmer on the topic of my own 2023 budget. 
I'm on Track With My Savings
From the outside, my savings may look aggressive. I put 50 percent of everything I earn into savings, but that's because as a freelancer, I'm responsible for paying my own taxes which shakes out to about 32 percent of my income. About 10 percent is going into an American Express high-yield savings account, and it makes me feel like a teacher's pet when I tell Palmer the current interest rate is at 3.5 percent, which she says is "amazing." The other 8 percent is in a credit union savings account that I can draw from for emergencies or big projects, like the new HVAC system I'll need in the coming months. One reason I'm able to pour so much into savings is that I don't typically carry any credit card debt month-to-month.
"The big picture takeaway is that you are doing a great job managing your money, especially in that you are debt-free," Palmer says. As a ballpark, NerdWallet recommends a 50/30/20 budgeting approach in which 50 percent of your take-home pay should go to needs, 30 percent to wants and 20 percent to debt payments and savings. 
"By that measure, you are exceeding all those goals," she says. "Saving 50 percent of your income is incredible, but also critical given that you need to set money aside for taxes."
I Could Contribute More to My Retirement 
My retirement savings is the weak spot in my budget. When I was employed full-time by newspapers, I was bartending at night to make ends meet — and early 20s me didn't put much into retirement. Now, I'm trying to make up for that as a 40-year-old. I put about 5 percent of my income into a retirement account, which Palmer says is a "great start," but she suggests I look into other ways to contribute to my retirement fund. 
My Subscriptions Need a Good Audit 
When I was preparing to send my budget to Palmer, I listed subscriptions as a line item and then broke down each one I pay for. During this exercise, I realized I have tons of subscriptions, including several I had long forgotten about. 
As a journalist, I'm often researching topics and signing up for subscriptions to random newspapers to read a few articles but forgetting to end my subscription. In addition to The New York Times, The Denver Post, The Washington Post, and a slew of digital sites, I found that I was subscribed to three outlets that I haven't read for months. I also vaguely remember signing up for Starz, and had been paying for it for a year without tuning in. 
"It's worth reviewing your monthly charges regularly so you can cancel services that you no longer need," Palmer tells me. "It's easy to let subscriptions auto-renew, and putting a stop to those extra expenses is a relatively easy way to find additional savings."
One thing that tripped me up when I was looking into my subscriptions is the fact that I was paying for some through PayPal and Apple, and not seeing what the charges were for in my checking account. Here's how to audit your own subscriptions. 
I Could Set Up a PTO Fund
Being self-employed comes with lots of perks. But one thing that I miss from having a full-time employer is the paid time off for sick days, emergencies, and vacations. When I went through a family emergency this year and needed to take leave, I realized just how important such a benefit is. I talked with Palmer about setting up my own self-funded PTO budget, which she says is a great goal. 
My boyfriend and I are soon combining households, which, lovey dovey things aside, means that we'll be sharing household expenses. With fewer expenses, I'll have money freed up to contribute more to my retirement and also to my very own PTO fund. That way, I won't feel any stress when I need to take a mental health day or take a vacation without packing my laptop. 
March is Smart Spending Month on Apartment Therapy! We're here to help you put your hard-earned dollars and cents to use — the right way. Head over here to learn how to do no-spend challenges, buy a home for below its listing price, and so much more.