Barb Makes a Comeback in Sesame Street's Stranger Things Parody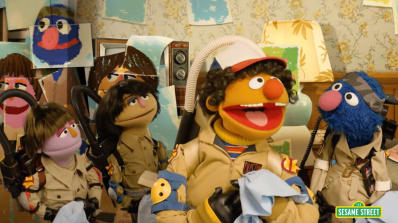 (Image credit: PBS)
If you just can't wait for season 3 of Stranger Things — or have tiny humans in your life who don't understand what all the fuss is about — Sesame Street has got you, with a kid-friendly parody of everyone's favorite '80s horror revival.
With Cookie Monster headlining as The Cookie Gorgon, the latest Netflix parody from the muppets is a pretty spot-on (if far less suspenseful) rendition of Stranger Things — called "Sharing Things." The Cookie Gorgon must learn how to share with friends and not eat all the Halloween candy in Hawkins, Indiana...and it's seriously adorable. Even if Barb is stuck in the "Snackside Down", at least she's still alive!
The supporting Muppet cast in "Sharing Things" includes Grover as Lucas and Ernie as Dustin, who has a worm sidekick named Dirt standing in for the pollywog-aka-Baby-Demagorgon D'artagnan — and the moment when Cookie Gorgon learns to share and interact with Dirt is the definition of pure joy.
Spoiler alert: Cookie Gorgon then heads into the Snackside Down and, having learned to share with friends, gives Barb half his waffle as he gushes, "Yeah, dey all da rage up dere!" Eleven makes an appearance, of course, as does her sister Eight — quite literally, played by Numbers of the Day.
Sesame Street is known for spoofing adult pop culture faves and making them more wunderkind-appropriate. Other recently parodied favorite movies and TV series include "Game of Chairs" (Game of Thrones) "Star S'Mores" (Star Wars), "Walking Gingerbread" (The Walking Dead), "Lord of the Crumbs" (Lord of the Rings), and "Orange is the New Snack" (Orange is the New Black) — all of which have been rated "SC" for "Self Control" by Cookie Monster.
Watch all of the parodies on the Sesame Street Parodies YouTube playlist. Or bookmark now for more harmonious holiday travel with your own tiny overlords.
h/t Hello Giggles