Sexy Green: 12 Sources for Good Lookin' Eco Design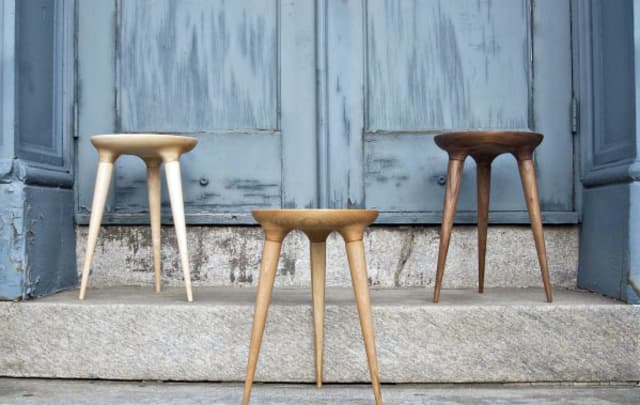 Green design isn't always gorgeous, but it's getting more so as designers learn how to sell environmental awareness with a little bit of sex appeal. Composting and low-flow toilets are important, but they don't turn most people on. That's where supersoft organic bedding and sleek handmade wood stools have the upper hand.
Attractive Accessories
Heath Ceramics
For proof of the sexiness of mid-century pottery, just check out old photos of a young Edith Heath at work. No offense to Demi Moore in Ghost, but Edith had the advantage of a well-developed talent for creating beautiful, enduring forms.
Freitag
Take a pair of Swiss brothers who happen to be graphic designers, set them on a search for the perfect messenger bag, and you have the back-story for Freitag, a company that makes recycled tarpaulin products, now available in over 300 stores around the world.
Horne
This store has a beautifully curated collection of high-end tabletop items, many of them hand-crafted by skilled artisans. Shop here for hand-turned wood bowls, hand-glazed china, and hand-woven wool linens.
Curvaceous, Leggy Furniture
Studio Dunn
When these stools were first posted on Apartment Therapy, one of the commenters said "they kind of look like strippers in heels." I can see it. Made in Rhode Island from solid walnut, maple, or cherry, the Coventry Stool/Table sells for $320.
Knoll
Designed in 1941, this Risom Lounge Chair is one of the first pieces that Knoll ever commissioned. The tapered legs, curvy seat, and cotton webbing are the chair equivalent of strappy high-heeled sandals. It's also Greenguard Certified and sells for around $800.
Emeco
What's sexier than a chair that was originally designed for sailors, with a seat that was — allegedly — molded from an imprint of Betty Grable's butt? Made from 80 percent recycled aluminum, the Emeco Navy Chair is a 1944 green classic. Prices start around $300.
Drool-Inducing Paint and Wallcoverings
Anna Sova
This Texas company makes food-based paint, just in case you're someone who likes to lick the walls. Made from a milk casein base, these high-end paints are available in a range of bright colors and neutrals, from hot pink to pale ochre.
Maharam
As the US distributor of European textile makers like Kvadrat, Maharam supplies stores like Unica Home and DWR. The Bouroullecs' "Clouds" is made from wool felt tiles that you want to run your hands over. It's pricey (a full wall will set you back thousands) but inspiring.
Trove Wallpaper
Trove combines sweetness and edginess in their designs — they're like the Emma Watson of wallpaper. This Nekkar pattern is especially lovely, and it's made with non-toxic, UV-resistant inks with a wax-based coating.
Textiles We'd go to Bed With
Plover Organic
Their bedding is 100 percent organic cotton, and it's not short on style. Prints are colorful, fun, and look great rumpled on an unmade bed. Prices for quilts start around $300, and they have frequent sales.
LOOP
Made from organic cotton, Loop's pillows and bedding are totally stripped down — the aestehtic is simple and spa-like, and everything is manufactured according to Global Organic Textiles Standards. Prices start around $60 for sheets.
Les Indiennes
This company makes organic cotton textiles that are hand-block printed in India. Their catalog is full of beautiful, casual photos that make you want to dive into bed. Since their bedding is handmade, prices aren't cheap — throw pillows start around $100.