SF House Call: Martie Accuardi of Space Design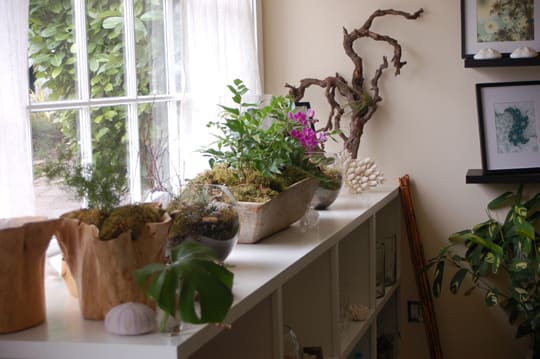 Just in time for spring, we're taking a peek at the home of a designer with some floral and plant expertise. In addition to interior styling, Martie Accuardi creates the most fantastic arrangements. Her work first came to our attention during our stay at Portland's Ace Hotel (those terrariums in the lobby are hers). And we just knew that equally cool botanicals would be sprinkled throughout her house.
• How would you describe your decorating style? I would describe my decorating style as modern sleek meets country chic. I'm a big fan of classic & timeless pieces that I can mix with modern and seasonal accessories. I'm also a big believer in bringing the outdoors in and without sounding too corny I really don't think a room is finished without a bit of nature in it. I've been filling interesting vessels with moss and tucking in flowering tillandsias. (Tillandsia International offers weekly updates on flowering tillandsia.)
This John Derian parrot vase is also a favorite and looks great with something as simple as an oversized monstera leaf and a few simple blooms.
• Favorite spot in your home and why? I love everything about my living room right now and it's by far one of our favorite rooms in the house. The living room looks out onto a southern facing 20' tall evergreen hedge that brings in such fabulous light. The eastern side of the living room looks out onto our orchid room. The living room is both comfortable and durable enough for kids and pets and also has the elegance and sophistication that I strive for when designing interiors. I recently hung these linen curtains from West Elm and have plenty of big tables to house our favorite books and magazines, collections of shells and orchids and have a small game table set up in the middle of the room for cribbage.
Sources: All of the fabric from Whole 9 Yards; pillows from Thomas Paul; pink garden seat from Rejuvenation; curtains from West Elm; vintage prints from Shein and Shein; and the rrchids and flowers are from Space Design.
• What's on your nightstand? My nightstand is actually an antique traveling toilet. It houses my night-time necessities like La Mer's Body Crème, Lip Butter and Magical Healing Balm, simple orchid blooms, apple tv remote, Martha Kimball's "Lip Lock" (from the Portland Art Museum's rental sales gallery), Yves Saint Laurent's Love book (picked up at Powells) and a beautiful book of poetry written for me by my fiance Steven.
• Favorite childhood memento that's in your home? My grandparents lived in a home built by my Great Uncle on Mount Tabor in Portland. The home was very elaborate, and as no one ever threw anything away it was filled with an enormous amount of treasures. I have this small cabinet filled with portraits of my Grandmother and Great Aunt as well as a collection of her Wit and Humor of America books and original Fairy Tale books by Grimms and Andersen. Also sweet little watercolor paintings of flower arrangements and Chinese tins that used to hold tea.
• Favorite travel keepsake? My favorite travel keepsakes are these funny little Mexican bobble head figures that we got on a trip to Mexico a few years ago. They're kept in the kitchen — just above the sink, along with a cupcake painting by Lisi McCarthy and a vase (shown here with a water lily) from IKEA. (The lighting is from School House Electric.)
• Current inspiration(s) for your work? I'm currently inspired by nature and what's local and in season. I have a great design studio and botanical bar that I keep stocked with branches, interesting & rare orchids, tillandsia and succulents. I also always have an array of moss on hand and like filling bowls & tall glass cylinders with mosses and succulents. I'm always on the lookout for interesting shaped glass vessels and have had really good luck at antique stores, STARS in Portland is a great source, and Pottery Barn usually has great oversized hurricaines. I'm at Portlands wholesale flower market daily and have access to some pretty fabulous farmers, vendors and products. I also travel to Rainbow Craft quarterly, a shell wholesaler on Hawaii.
• Favorite home/design magazines or websites? I subscribe to Garden Design, Better Homes & Gardens, Elle Decor, W, Architectural Digest, Homes & Gardens and my favorite is Met Home. I also pick up Dwell and Domino from time to time. I also like having plenty of books around on gardening and design and am constantly seeking out the latest and greatest from Powells. I'm currently on the lookout for Daniel Osts' new book Transparent.
• Best bargain in your home and where did you get it? These embroidered fern pieces from Anthropologie started out as $499 per piece. I purchased two in Portland and luckily found the other two in Las Vegas, they ended up being $99 per piece.
• Biggest splurge? I have too many splurges to list! My 1904 Queen Anne is actually home to my commercial studio space as well as my orchid growing room. The orchid room is an enclosed porch, enclosed in the '40s, and has been fitted with automatic watering and misting systems and is home to about 100 or so plants. Construction on both of these projects were pretty big splurges but being able to work from home is a huge treat. This plant stand was a "found" object from Anthropologie and really makes the room. This German 1894 1st Edition Orchid book from Schein & Schein is a one of a kind and also a pretty big splurge. The 1950s French Botany scrolls are from Bedford Brown in Portland. The ceiling fans from LUX Lights in Portland.
• What's at the top of your list of things to buy next for your home? I'm not planning on moving anytime soon but if I could add to this home or plan for the next I would really like to go over the top and have a lap pool and outdoor furniture from Janus Et Cie. I would also like to have a custom rug made for my living room from Madison Millinger rugs in the Pearl District. I'm really dreaming big here and would like to add a conservatory to the list.
• Favorite local and online resources for furniture and accessories? Favorite online and local sources are Hive, Design Within Reach, Mitchell Gold and Anthropologie. My favorite Portland stores are Flora, Flutter and Canoe. I have been getting weekly online updates from 1st Dibs and although I haven't purchased anything I've been really close and think it's a great international source.
Bonus for those of you in the Portland area: Martie teaches classes! The next one will be held on Saturday, April 5, and will focus on terrariums. (Pictured above are the ones she designed for the Ace Hotel.) Get the details on her blog. And you can see more of Martie's creations on the Space Design website.
Apartment Therapy supports our readers with carefully chosen product recommendations to improve life at home. You support us through our independently chosen links, many of which earn us a commission.