Loved Gone Girl? Gillian Flynn's Sharp Objects Is Coming to HBO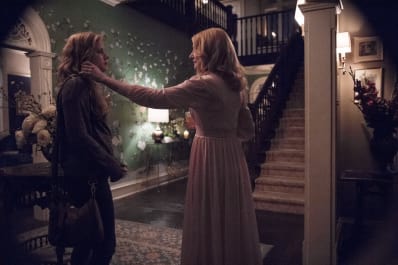 (Image credit: Credit: Anne Marie Fox/HBO)
Author Gillian Flynn is most famous for her twisted novel, Gone Girl, but that wasn't her first foray into the world of dark storytelling—in fact, her debut novel Sharp Objects is arguably even darker. The book is headed for the small screen this July as a limited series for HBO.
Starring Amy Adams and directed by Jean-Marc Vallée (of Big Little Lies), this highly-anticipated adaptation follows the story of a journalist Camille Preaker (Adams), who returns to her small hometown in order to investigate the mysterious murders of two young girls. The just-released trailer promises the show will be just as haunting as the book.
Haven't read it yet? There's still time!
It's looking like 2018 might be an exciting year for TV adaptations. Along with season 2 of Handmaid's Tale and Big Little Lies, here are a few more series we're excited about, inspired by some of our favorite reads:
Sweetbitter (Starz, May 6)
The bestselling novel from Stephanie Danler follows Tess, who moves to NYC at 22 years old and lands a job at a fancy downtown restaurant. Lessons about waitressing, wine tasting, and developing a palate act as deeper lessons for how to navigate the chaos of New York. Starring Ella Purnell as Tess and Tom Sturridge as Jake, a troublemaking bartender, we're not sure they'll be able to pack all of the drama in a thirty minute episode.
Read the book first: $11, amazon.com.
Fahrenheit 451 (HBO, premieres May 15)
Everyone remembers Ray Bradbury's classic novel—you likely read it in school and listened to your English teacher lecture you on the importance of books. HBO's adaptation of the 1953 story takes many of the dystopian themes, but producer Ramin Bahrani says it may differ from what die-hard fans remember. Starring Michael Shannon, Michael B. Jordan, and Sofia Boutella, the story still depicts a dark future where firemen are no longer lifesaving icons, but instead, are hired to burn literature.
Read the book first: $9, amazon.com.
Dietland (AMC, premieres June 4)
Plum Kettle, an editor at a fashion magazine who struggles with her weight and self esteem, finds herself a member of not one, but two, feminist cults. Set your DVR yet? Joy Nash and Julianna Marguiles star side-by-side in this dark comedy based on Sarai Walker's 2015 novel. AMC President David Madden has hinted that this series will feel particularly timely, telling Deadline: "Dietland focuses on some of the important issues and conversations happening today and offers a witty and insightful look at the war of the sexes."
Read the book first: $13, amazon.com.
Apartment Therapy supports our readers with carefully chosen product recommendations to improve life at home. You support us through our independently chosen links, many of which earn us a commission.