Here's How to Get Your Bathroom Cleaner Than It's Ever Been
We independently select these products—if you buy from one of our links, we may earn a commission. All prices were accurate at the time of publishing.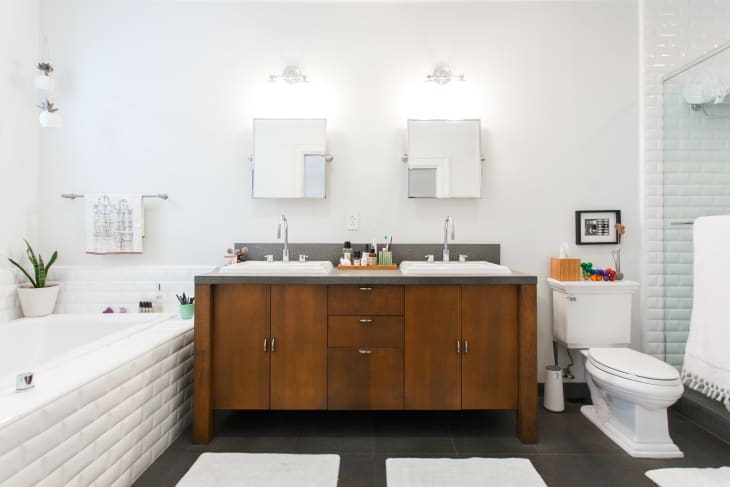 Spring Cleaning is a free guided cleaning program from Apartment Therapy designed to help you show your home some love. Sign up now if you want to join. (It's free!)
Showers and tubs are the great equalizer. If you have a big shower with gorgeous intricate tile, and a bathtub the size of a Buick—well, you've got quite the chore ahead of you when it comes time to clean. Meanwhile, those builder-grade all-in-ones which few look upon with envy—those suddenly become the belle of the ball on cleaning day.
Follow Topics for more like this
Follow for more stories like this
No matter what kind of features your bathroom is outfitted with, today's the day we're scrubbing the shower and tub to a picture perfect shine. You probably already give these areas a spruce up in your regular cleaning routine, but spring cleaning is the motivation you need to do a really deep clean: the kind where you're eyeing the caulk with a magnifying glass (literally or figuratively) and wielding a toothpick like a surgeon wields a scalpel to exorcise every last crevice of bathroom grime.
Day 8 Assignment: Scrub the Shower or Tub
Grab some supplies and head to the bathroom ready to deep clean your shower, tub, or both, if you have them (and have the extra energy).
If you'd like, before you start in on the scrubbing, take your shower curtain and liner down and give them a spin in the laundry. (Yep, even many plastic shower curtain liners can go through the wash.)
Spray your tub, and shower walls and floor with your cleaner, then let it sit for up to 5 minutes.
After a little while of letting the spray work its magic, go in with your brush and scrub at every inch of the walls.
Then, go in with your detail brush and inspect your grout, caulk, the areas around the fixtures, and any other small details in your shower and tub situation.
If any stubborn grime or dirt remains on your grout, rinse the walls well to remove all of the cleaner you applied, then follow it up with a second cleaner: a paste made from baking soda and hydrogen peroxide. Let it sit, then use your scrub brush to get at the grout again.
If you have a glass shower door, use glass cleaner and a squeegee to clean it, working from the top down.
If you cleaned your shower curtain and liner, replace them. Then you're done!
Scrubbing the shower and tub is not the easiest cleaning task to accomplish, but it sure is one of the most satisfying!
Here are a few more things that might help: