Simple Solutions for Updating the Kitchen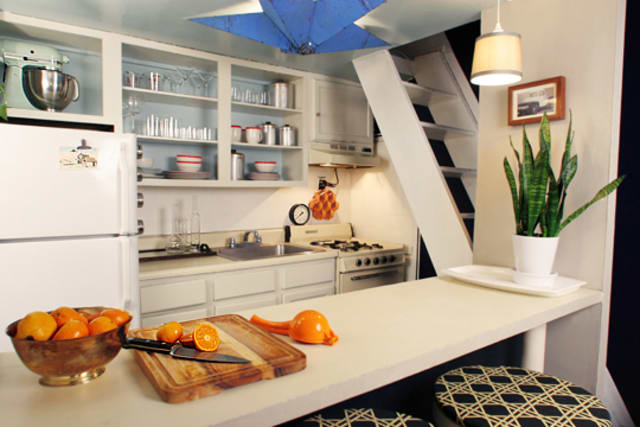 Just because you may be on a budget, doesn't mean you have to settle for those outdated or unsightly fixtures that came with your place. When considering a kitchen update, keep in mind these tips and resources for an easy and effective transformation that won't break the bank.
Clear the Counter Space
CB2
Every inch counts - especially in small kitchens, where counter space is limited. Move kitchen essentials to small shelves like these El Shelves from CB2. $9.95-19.95
IKEA
With its modern, stainless steel design, the GRUNDTAL Kitchen Series at IKEA is full of solutions for removing everything from the dish rack to paper towels off the counter and onto the wall. $4.99-10.99
Cover Unsightly Surfaces
Behr Paint
I've done it in now in a few apartments - one landlord even thanked me for the improvement! Cover cheap linoleum or ugly parquet floors with a couple of coats of Behr's Porch and Patio Floor Paint. Tint the base to whatever color you want, create a bold pattern and finish it off with a Sealer for a low-lustre or wet-look. Starting at $26
Home Depot
Here you can find Rustoluem's line of specialty products for transforming cabinets, countertops and even appliances. Don't forget about their tintable Chalkboard Paint for that old Refrigerator! Prices vary by product.
Change the Lighting
West Elm
Look for bright and modern light fixtures to replace that old thing in the ceiling. These Industrial Pendant Lamps come in a variety of sizes and colors, are relatively inexpensive and are a great way to add a punchy accent color to your space. $19-149
Lowes
Placing light strips underneath cabinets is a great way to illuminate your prep-space and provides options for mood lighting. The Utilitech White Undercabinet/Rope Light is an easy install and a great deal for just under $20.
Accessorize the Cabinets
Fishs Eddy
Pull those doors off the cabinets and fill your shelves with beautiful plates and dishes. Fishs Eddy, which currently stocks this line of Charley Harper dinnerware is a great resource for eye-catching ceramics and glassware. $5.95-32.95
Moon River Chattel
Scour flea markets and specialty stores like Moon River Chattel for vintage pulls and handles. Unique one-offs like these make great personal touches.