Here's What The Simpsons' Living Room Would Look Like In Different Decor Styles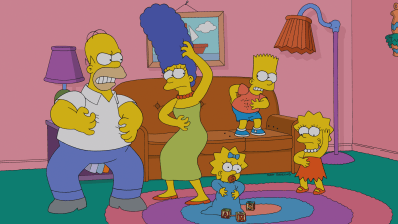 (Image credit: Courtesy of Fox Broadcasting)
After 29 years, any home is due for some updating—well, any home except, perhaps, the home of TV's most famous family, The Simpsons. For 29 seasons (soon to be 30!), Homer, Marge, Bart, Lisa, and Maggie have been running into the same exact living room, brown couch and all.
Part of The Simpsons' charm is that everything remains very much the same, but just for fun Home Advisor took six specific design aesthetics and applied them to the iconic space. You'll immediately recognize the classic Simpsons configuration (and spot Santa's Little Helper, a can of Duff Beer, and Marge's pearls hanging around), but everything else has been given a makeover. The Simpsons living room has served the family well all these years, so it's doubtful they'll ever implement the changes below, but maybe you'll find some inspiration in the new designs of a classic room.
Industrial
In a nod to Homer's job at the Springfield Nuclear Power Plant, Home Advisor gave the living room an Industrial look, complete with exposed brick and a playful mixture of metal, wood, and leather. They ditched the green carpet for gray flooring and added some chic lighting fixtures. It's a very modern update to the living space. Everything's coming up Industrial!
Coastal
This take on the Simpsons's living room is sure to remind the family of fond memories from time spent at the Flanders's beach cabin in Little Pwagmattasquarmsettport, like Lisa attempting to be cool for once, or discovering Milhouse looks just like The Dud from Mystery Date. Ah, the beach. This living room gets its beachy vibe from the nautical decor and by infusing the room with a calming palette of blues and whites.
Bohemian
Home Advisor went boho in honor of the family's free thinker, Lisa. It's full of vibrant colors, rich textiles, and exotic furniture. But if the Simpsons adopted a more bohemian outlook on both decor and life, we'd never learn important things like "you don't win friends with salad," and that's a lesson that never goes out of style.
Shabby Chic
The original living room does have a bit of a masculine feel to it, so it might be nice to femme it up a bit, and that's exactly what this Shabby Chic look does. To achieve this look, Home Advisor set out to mix and match "finishes, colors, and styles." Pops of pink and a lush area rug help turn this room into a comfortable space for pearl-clad Queen Marge.
Hollywood Regency
This style is way out of the Simpsons's comfort zone—I mean, Homer has been known to eat fancy soaps, after all—and of all the redesigns, this one feels like the polar opposite to the original decor. To give Springfield's first family a little bit of sophistication, Home Advisor opted for contrasting colors, gold accents, and bold pieces of furniture. If you're not into the Hollywood regency look, don't worry—to paraphrase Homer, design styles are just a suggestion, just like pants.
Mid-Century Modern
Home Advisor mixed minimalism with a colorful palette of mustard yellow, greens, and carnation pink to give the Simpsons a mid-century modern living room. The look may be all about functionality, but it also has one very playful element: Lisa's sax-a-ma-phone, er, saxophone.
Would you choo choo choose any of these makeovers for the beloved Simpsons living room, or is it hard to imagine them plopping down on any couch besides the one they've been plopping down on for 29 seasons?