This Reader- and Editor-Favorite Little Luxury Is Back and Better than Ever
We independently select these products—if you buy from one of our links, we may earn a commission. All prices were accurate at the time of publishing.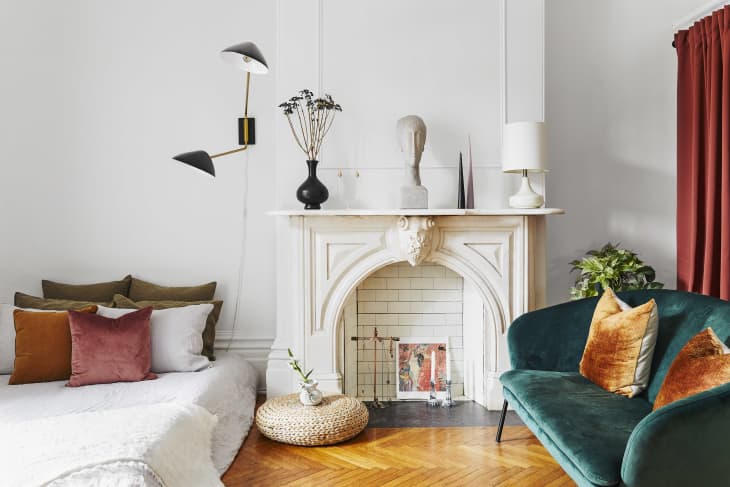 Nothing completes a shelfie, coffee table display, or a mantel vignette with a candle quite like a candle accessory. That's probably because flame snuffers, wick trimmers, match holders, and candle strikes are all functional, interesting in shape, and can be pretty in finish, especially when handmade or crafted out of quality materials like brass, glass, or ceramic. I know many of you agree; Skeem Design's Glass Match Cloche was one of the most purchased products in our past gift guides. Hand-blown in a variety of glass colorways and elegant in its almost pill-like shape, this 120-match strong cloche, with its little cork stopper and strike-on-bottle flint, is the perfect piece to gift a candle-lover or buy for yourself. 
Trust me: You will find a spot for this in your home, and it'll add just a tiny bit of class anywhere you put it. I get to peek into so many designer homes and funky home decor shops, and this item is practically omnipresent. That's why I'm especially happy to report this collective favorite accessory is back (and better than ever, IMO) with a twist, literally: Skeem's latest model, the Glass Helix Match Cloche, features a spiral-textured, ribbed glass design, which is somehow trendier and fancier-looking than the original model. The $39 price tag hasn't changed, though, and the match cloche can be ordered on Amazon Prime, too.
Follow Topics for more like this
Follow for more stories like this
Another new development in the world of Skeem Design Match Cloches? Now you can choose your match tip color in certain styles. The Helix, as this new version is being called, can be ordered with black-, red-, or white-tipped matches, and you'll find the other clear or close to clear finishes offer some customization in this regard, too. Clearly this is a small detail, but it's fun if you're in a matchy-matchy mood (Get it? CB2 even has their own similar fluted cloche if you want all-black matches). This whole cloche product family has expanded over the years, too; the Helix is available in the fireplace sized matches as well, and now the brand even sells candles in cloche containers.
The nice thing about all the Skeem Design Match Cloches is they're refillable and repurposable. You could always pop new matchsticks into yours or fill the vessel with something else entirely, turning it into a more decorative piece. For that reason, they're worth the investment, and you can't really go wrong with one of these babies. Just try to keep yours out of your pets' and little ones' reaches.