9 Things to Buy for Your Home If You're a Little Bit Inappropriate
We
independently
select these products—if you buy from one of our links, we may earn a commission. All prices were accurate at the time of publishing.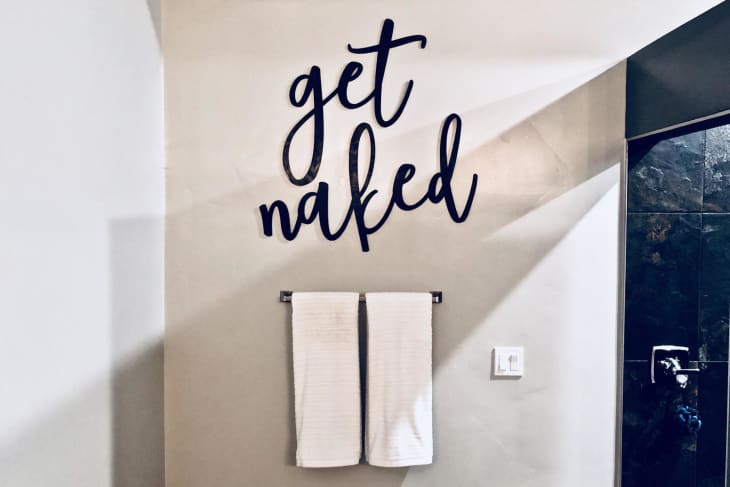 If you're a tongue-in-cheek kind of person who enjoys a dirty joke over a glass of wine, you can (and should!) incorporate your sense of humor into your home decor. Cheeky tchotchkes, quirky prints, lewd bathroom signs, and suggestive sugar containers can make your home reflect your bold personality. Interested in pushing the envelope? See how you can do it (in style, of course) below.
Remind everyone who steps into your bathroom to get into the buff with this "get naked" cutout sign. It would be especially hilarious if you propped this up in a half-bath. These signs come in three different sizes and three finishes: black, white, or sanded down and unfinished. It's a great choice for those who are just a touch inappropriate and like to play with it.
Put this candle in the bathroom or nonchalantly on your nightstand. It comes in three different sizes, and can burn from 55 to 190 hours, depending on which size you get. It also comes in more than 50 different fragrances, so you can choose the one that you like the most. 
If you're the type who needs some motivation to get through the work day, this "Get Shit Done" poster can help you keep pulling through, even when you think you have no steam left.
Introverts, do I have your attention? Because this one's for you. If you only like having guests for an hour at a time and consider your alone time sacred, then get this poster is a friendly PSA for any future pop-ins. Its message is pretty clear: "Make yourself at home. Your home. Seriously, go home."
You'll whip off your robe with a grand flourish every time you see this "get naked" bath mat.
Get flirty with your kitchen containers (and your coffee mate—get it?) with the help of this "Gimme Sugar" sugar jar.
This poster is a compliment and a well-wish all wrapped into one. Who doesn't like hearing that their butt is nice?
If you're a self-professed wine lover and don't think you need to stop drinking your chardonnay just because you have to wash your hair, then this shower wine glass holder is a must. 
This clock is for those who are passionate about naps and don't care who knows it. Rather than telling time, this clock breaks your day up into three categories: eating tacos, taking naps, and overthinking everything.