A Small NYC Apartment Looks Like a Theater Set and Feels Like a Fairy Tale
We independently select these products—if you buy from one of our links, we may earn a commission. All prices were accurate at the time of publishing.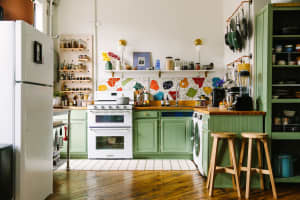 Can't-Miss House Tours Straight to Your Inbox
Keep up with our latest house tours each weekday with our House Tour of the Day newsletter
Name: Anna Kate Reep, husband, and three hairless cats
Location: New York, New York
Type of home: Apartment
Size: 900 square feet
Years lived in: Almost 1.5 years, rented
Tell us a little (or a lot) about your home and the people who live there: My husband and I work in the arts, and I specifically work on Broadway. We moved to this apartment in February of 2020, so when I lost my job and New York went into lockdown, my apartment became my quarantine art project. I couldn't control the world, but I could make our home more beautiful. We rent, and our landlord told us we could do whatever we wanted to our place, and we took advantage of that. Back at the beginning of 2020 I had a horrifying gut feeling that we needed to break the lease on our tiny one-bedroom apartment and move to a two-bedroom, so I could have a sewing studio. (I work in wardrobe and costuming.) So long story short, in the span of two weeks in January, we found a sublet, found a broker who found us a gigantic THREE-bedroom in a rent-stabilized building and moved into our new place on February 1, 2020.
A significant amount of our apartment is thrifted or curb finds. When so many people were leaving the city back on March and April, they were leaving behind beautiful antique furniture, and I took it and made it ours. My husband is a huge strong guy, so he's the reason I've been able to make our apartment as crazy as it is. I always wanted to have my own space to decorate as crazily as possible. My parents let me paint the inside of our house when I was a kid, and now my apartment is an extension of that. But now it's a floor-to-ceiling theatrical and artistic space. I needed a space that really reflected me and my husband, and it has been so beautiful to get to do that during the worst year of our lives. It has also allowed me to have a separate space to teach masked sewing lessons in, which has been great.
I identify with beautiful romantic art and was practically raised on the Impressionism movement. My dad is a photographer, and he put a huge emphasis on our arts education, and my siblings and I constantly went to museums. I always wanted to live in a Degas painting. I'm passionate about antiques, which is really reflected in my apartment. A lot of the art on my walls is antique pictures I've been collecting since I was a little kid, just holding onto them until I had a place to hang them. Now I have that.
Describe your home's style in 5 words or less: Art nouveau eclectic fairytale
I adore the naturalistic shapes and colors of the Art Nouveau movement, and it has always really inspired me. The beauty of Mucha just encompasses every aspect of design I love. My wedding was Art Nouveau themed, so I really work it into every facet of life I can. My husband and I are also huge fantasy lovers, and we're able to combine that love within our decor without it feeling out of place. The "Lord of the Rings" movies are one of the reasons I got into theater and film in the first place, so we've been able to pay homage to the design work of Rivendell and Lorien into our home. I wanted a home that looked like a theater set, and that's basically what I've been able to accomplish with all this free time since Broadway has been shut down. I've painted and sewed and reupholstered so much of our apartment; I've been able to work out a lot of grief and stress from the pandemic by channeling it into our home.
What is your favorite room and why? It's a tie between my sewing studio and my bedroom. But I think my bedroom just barely eeks out as my favorite. I painted the ceiling of Grand Central Station on my wall, and because I've had so much time, I've been able to take my time and gold-leaf everything so it really shines. Painting my ceiling blue with stars has also been a dream since childhood since I saw a picture of an antique house with it. And being able to have twinkle lights and a canopy makes it the dreamiest place to relax in at night. It feels like a fairytale to sleep in.
What's the last thing you bought (or found!) for your home? The most recent addition is an antique writing desk my friend gave me. It belonged to her great grandmother, and she wanted it to go to a home where it would be loved. That's one of my favorite parts of our apartment. So many items have been family heirlooms or stoop finds. Our apartment has a real sense of life to it. It all feels so at home in a 100-year-old building. It feels a little like The Burrow from "Harry Potter." Everything is funky and weird, and there's not a fully level surface in the entire apartment.
Any advice for creating a home you love? Don't be afraid to push the limits of your design inspiration. I'm biased because I love maximalism, but I think you shouldn't worry if your design ideas would be "too much." If COVID has taught us anything, it's that the world is crazy. Paint your ceiling. Get weird doorknobs. Living in a home that feels uniquely "you" is so rewarding and comforting.
This submission's responses and photos were edited for length/size and clarity.