Our Best Tips for Small Space Living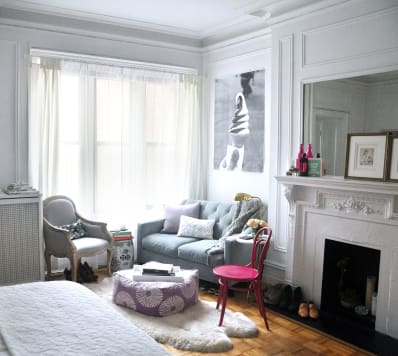 Small space living can be incredibly rewarding. Cutting down on square footage can mean living somewhere really fantastic that you wouldn't otherwise be able to afford — not to mention all the time you'll save cleaning. But it can also be a challenge — where, exactly, does all the stuff go? And how do you keep your cozy abode from getting just a little too cozy? Here are some of our best tips for small space living.
Here are Judy Ross' 5 style tricks for making your small space seem larger. And she should know: she's been living with her two sons in a shipshape 600-square-foot Manhattan apartment for 13 years now. (Click here to tour her house!)
How do you keep from being overwhelmed by stuff when your space is very small? Lots of storage — and lots of purging. Here, professional organize Fay Wolf identifies two kinds of things you might have trouble giving away — and how to let go of them for good.
I know, I know, we're always harping on it — but having a dedicated 'landing strip' in your apartment is such a good idea! It's a way to keep clutter from piling up by stopping it where it comes into your home — right at the door. Here, Maxwell discusses the five elements of a successful landing strip, and how you can create one even in a little bitty space.
Thanks for watching, and happy weekend!
(Image: Stephanie's Best Year Yet, from our 2013 Small Cool Contest)