These 3 Pieces of Furniture Create More Space in My 620-Square-Foot Apartment (for Just Over $250 Total!)
We independently select these products—if you buy from one of our links, we may earn a commission. All prices were accurate at the time of publishing.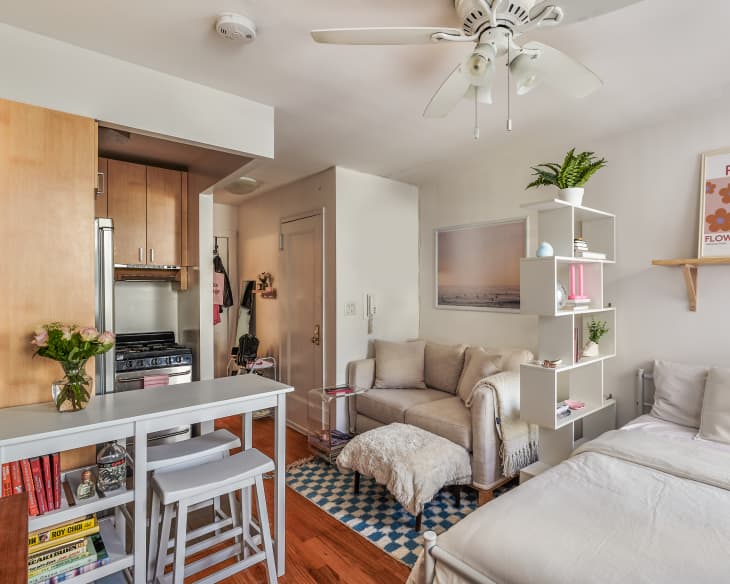 Follow Topics for more like this
Follow for more stories like this
I share a one-bedroom, 620-square-foot apartment with my partner and a small (but spirited!) dog. Our home also doubles as both of our remote offices, so we've had to be extra creative about our setup to make it work. Throughout the process of trying to create more space, we've learned to invest in double-duty furniture that replaces one or two separate pieces and to look for items that also take advantage of vertical space. These three space-savers I've purchased do just that, while making our apartment feel bigger and function better. Bonus: They're all versatile enough to move with you, if and when you end up somewhere new.
No dedicated entryway? No problem. This four-tier shoe rack with a built-in tabletop from Target was just the thing we needed to store our most-worn shoes and essential pet items next to our front door. The shelf has three metal tiers, which together can hold up to nine pairs of shoes, plus a wooden surface for decorative or on-the-go items. We opted for a wire basket to store a dog leash and some paw wipes, but the surface would also be perfect for a small bowl to hold keys or sunglasses.

Buy: Brightroom 4 Tier Shoe Rack, $48.00 from Target
Specialty items, like record players and vinyl records, can be tricky to store in small homes. I used to put my turntable on top of an extra dining room chair with a basket of records next to it, which took up more space than necessary and made the albums inconvenient to flip through. After buying this LELELINKY record player stand from Amazon, though, I donated the chair and repurposed the basket, reducing the clutter in this area by half. This piece holds a standard record player — plus up to 100 records between four compartments — and comes in five colors. I went with the wood finish for some vintage flair.
Over-the-Toilet Storage with Shelf
There's no shortage of clever bathroom storage systems out there, but most have some form of exposed shelving, which can make a small bathroom space look more cluttered. That's why I replaced a rickety, open over-the-toilet shelf with a beautiful bamboo storage solution from The Home Depot (it's currently sold out, but you can get this similar style). The top two shelves, which I filled with towels and skincare products, are enclosed by magnetic cabinet doors, while the spacious bottom shelf remains open to accommodate easy-access items like tissues and brushes. Looks-wise, this shelving unit has completely streamlined our bathroom and added a more spa-like Japandi vibe, making it a great place to take a long shower or hot bath.