Small Space Lessons: Floorplan & Solutions from Garrett's Everything Every Day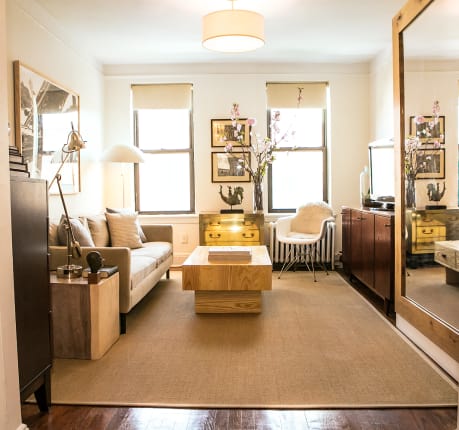 When viewing the photos from this 2013 Small Cool Contest entry, it's hard to believe this sophisticated apartment is only 340 square feet! But thanks to incorporating a lot of hidden storage and splurging on a space-saving murphy bed, Garrett is living large in a teeny-tiny space.
Garrett's light and neutral color scheme flows throughout the apartment for a seamless transition from room to room. While a different color could be used to define and separate the two rooms, keeping the color the same helps highlight the interesting architectural elements like the arch, hardwood floors and windows. But keep in mind, beige-neutral does not have to be boring! By integrating gold throughout with the dresser, artwork and lighting, Garrett adds a light-reflecting color and a touch of glam.
Garrett admitted that his main issue with living small in his apartment was privacy. Without a bedroom, most of the time you find the bed incorporated into the living quarters. But Garrett is not a fan of having company hanging out on his bed, so he invested in a murphy bed, one of the best ways to free up extra space. By adding an oversized mirror to the underside of the bed, Garrett makes as equally an attractive addition when folded away. Mirrors, especially a mirror of this size, are a quick trick for creating the illusion of space.
Another added bonus of the murphy bed is he also enjoys the fact that he can simply tuck the bed away every morning without having to make his bed. And if you live in a small space where the bed is positioned in or in view of the main room, making your bed is key! A tiny mess looks so much messier in a small place.
By keeping most of the furniture streamlined, and using a space-saving molded plastic side chair, there's plenty of room for a chunky coffee table without it appearing to gobble up the whole room (it also has big drawers for hidden storage). Using functional furniture that is strategical placed, is another way to maximize space. A matching pair of upholstered stools offer additional seating but can easily be tucked away under the table. The depth of the sideboard is also the perfect dimension for the room, able to neatly fit behind the bed frame. One with just a couple inches more depth would have left it protruding out, distracting from the overall flow when the bed is tucked away.
And just as it's sometimes important to scale back on size in a tiny room, playing with scale is equally important. Often, scale is the most under-considered finishing touch! Just as Garrett added a chunky coffee table, the oversized artwork makes the space feel grand.
Even though this apartment is bright and light-filled, Garrett realizes the importance of proper lighting, even more important to consider in tiny homes. The pendant and chandelier provide stunning illumination and draw the eye upwards, which can create the feeling of more space. A floor light and task lamp offer even more lighting options.
Lastly, in this apartment, everything has a place and not everything has to be shown off at once. By incorporating lots of concealed storage, the small space isn't overwhelmed by too much stuff. Even if you have lots of collections and clutter, keeping it hidden away "creates the illusion of being organized", according to Garrett. So while this place is elegant and immaculate, perhaps he has a secret "Monica Geller" closet, but nobody knows but him!
When it comes to maximizing your space, especially done so effortlessly and elegant, Garrett's home is an inspiring example. Hat's off to you, Garrett!