A Close-Knit Family of 6 Shares a Small 675-Square-Foot Home
We independently select these products—if you buy from one of our links, we may earn a commission. All prices were accurate at the time of publishing.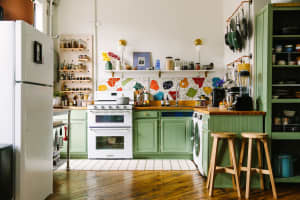 Can't-Miss House Tours Straight to Your Inbox
Keep up with our latest house tours each weekday with our House Tour of the Day newsletter
Name: Jawaria, my husband, and our four children
Location: Pittsburgh, Pennsylvania
Size: 675 square feet
Years lived in: 16 years, renting
My husband and I came to the U.S. for college and met in Florida. I moved to Pittsburgh for my master's and my then-friend, now-husband followed suit. The rest of the 16 years are just a slightly elaborate version of that story. I make impulsive decisions and my husband follows along, and now our children are part of the adventure.
We are a laid-back and very close-knit family and the tiny apartment gets a lot of credit for that. Everyone has a say in everything including decorating this apartment. Our children chose the bathroom color, and give suggestions on what works and what doesn't.
When I moved here, I was excited to find a place on the train line. We lived without a car for the longest time and only bought one about seven years ago. We enjoy traveling and being outdoors so in that aspect our apartment is perfectly sized and located. We can walk to restaurants, parks, stores, the library, and we literally live atop a barber shop and right next to a pizza shop! The smell of fresh bread being baked in the morning fills our apartment and I can always tell when they are baking garlic knots… I love garlic so it's extra enticing!
Being from Asian backgrounds the idea of individual bedrooms or privacy were foreign concepts to us. We come from cultures where room and bed sharing are common practices and most siblings and cousins grow up sharing a room. So what's been perfect for us is considered too small for some people.
I'm very thankful for this little apartment as it has allowed us to grow and take risks, it has forced us to bond as a family but also enhanced our individuality, it has taught us to become creative and appreciative, and taught us that a home is a home wherever we are. Thanks to this apartment's location, we've made and lost friends, met with people who were different and seen change as our children grew. We have an elderly neighbor like a granny to our children, a kind neighbor/barber who not only cuts their hair but also brought them their first ever Legos (1970s version, which used to belong to his children). At some point we'll move, as we like to go with the flow. But until then this home will do!
Describe your home's style in 5 words or less: Whatever the heart desires
What is your favorite room and why? I love every single room. However, I think my personal favorite is the master bedroom as it's calm and relaxing compared to the rest of the apartment. I am naturally attracted to bright and shiny things and my children and husband are even more hopeless. So when I bought white curtains and the beige bedding, I received criticism and lots of gloomy faces. But once everything was in place, I did receive a standing ovation! I homeschool our children and sometimes this room works as a getaway for me to just calm down and relax before committing to chaos.
If you could magically change something about your home, what would it be? I think I would love a washer/dryer in unit. Ooh and ideally a dining area where we could leave the table open all the time.
What's the last thing you bought (or found!) for your home? I found the floral settee in my bedroom at HomeGoods for an incredible bargain. Actually, my husband found it and knew it was very me.
Any advice for creating a home you love? Be yourself! If you live in a place which pleases your heart, then that's the perfect home. If it means all white walls, go for it. If it means a mishmash of colors and chaos, then do that. What works for one might not work for others. So as long as it makes you happy and content, that is a perfectly created home.