Are Smart Appliances a Really Dumb Idea?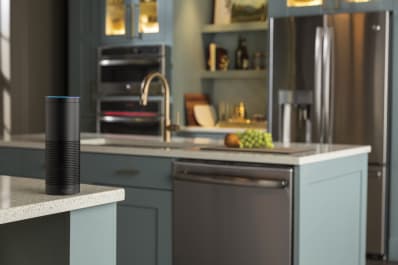 (Image credit: GE Appliances)
I don't envy appliance companies. Designers and marketers have a tough job, constantly trying to innovate new fridges, dishwashers and ovens —anticipating which features consumers will actually use and love, all without getting gimmicky or too niche. Because the current trend involves connecting to other smart devices like Alexa and iPhones, they now must also keep the technological horizon firmly in mind. Unless you're the second coming of Steve Jobs, it's hard to know what features will stick and what will go the way of the betamax.
I'm not such a luddite that I can't see the potential. Pre-heating the oven while driving home from work? Fantastic. A touch-less faucet that automatically measures out a cup of water? I'm down for that. It's compelling stuff.
But despite those lures, here are some of my immediate concerns:
(Image credit: GE Appliances)
Longevity: Unlike a smart phone, which gets updated every year or so, kitchen appliances are bigger ticket investments which should last up to fifteen years. It's hard to imagine a technology so prescient and feature-forward it will weather all the evolutionary shifts and advancements to come. Unless someone develops a leasing program for appliances (upgrade to Dishwasher 4.0 in two years!), you might wind up with the equivalent of a rotary phone adjusting your fridge temps or starting your laundry. Even then, I'm not convinced any new and cutting-edge feature is worth swapping out a 200 lb. stainless steel behemoth that often.
Multiple Interfaces: Pairing appliances with assistants like Amazon's Alexa or Nest Thermostats is pretty standard these days — or will be in the very immediate future. And appliances will only get smarter and more intertwined: cameras will recognize products in the fridge, triggering another third-party program to suggest meals based on those ingredients, and then send that info to the oven to pre-heat at the right temp for the recipe. (This could mean amazing things, especially for things like food waste.) But getting all these things to talk to each other seamlessly is no small task. When I renovated my kitchen years ago, I didn't pick a suite of appliances from one company — I cherry picked what I wanted. Nor do people tend to replace their appliances in one fell swoop. What happens with there are appliances from multiple brands, each running their own apps and integrated software on different devices?
(Image credit: Signature Kitchen Suite)
Maintenance: As appliances get more and more computer reliant, the more little things there are to go wrong, and the more software updates they will require. Since I'm the person who repeatedly clicks "later" on my laptop when prompted to install the latest versions of things, I truly dread a time when appliances need that same consideration. Who's going to reboot my dishwasher when it has a glitch? Purchases from higher end lines — like the Signature Kitchen Suite above — come with a "Kitchen Concierge" app which connects you with customer service representatives 24/7 and helps you schedule a handyman. But when the problem rests with integrated software from a third party, there are no IT heroes, or Mac Genius Bars, for convenient problem solving.
Marketing & Big Data: Using Amazon Dash, many appliances can now sense when cleaning supplies are low and automatically order more, or alert you to the need for a new water filter. Sounds pretty convenient, if you don't mind potentially pushy prompts, or being thrust down a direct pipeline to the Amazon marketplace. It also generates lots and lots of data on how you use products —a goldmine for companies who seek insight on how to sell you more things.
I think it's still very, very early in the game, with many new developments to come. So, as is often the case, it falls to early adopters to light the way for us reluctant dingleberries who remain stubbornly unsure and unconvinced. The less tech savvy, risk-averse, and cash-strapped among us will no doubt wait until these features trickle down to more accessible levels before we give them a whirl. If we ever do.
Which means I want to hear from you readers. Does anyone have appliances with the aforementioned high-tech features? Have they rocked your world? What, if any, concerns or issues are bugging you so far? Am I a curmudgeon without cause?