Snapchat's Spectacles Might Seem Silly, But Could Actually Be Cool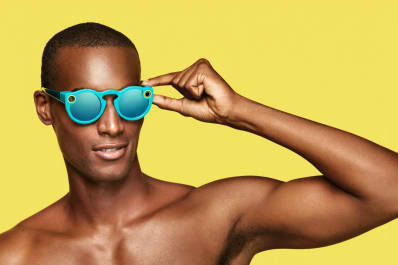 (Image credit: Snap Inc)
Snapchat announced on Friday that they are a) renaming themselves Snap, Inc. and b) releasing their first hardware product, a pair of video sunglasses. I was all set to scoff, but Spectacles could be more than just reimagined Google Glass for the Millennial set. Here's why you might actually want them:
Set to be released this fall, Spectacles are a pair of sunglasses with two front-facing 115-degree cameras that record circular video that's more similar to the human field of vision. When you tap on the button near the hinge, Spectacles shoot a 10-second video; tap again, and they'll add another 10 seconds (you can record up to 30 seconds at a time).
Okay, but why not just hold up your phone like everyone else? CEO Evan Spiegel tells the Wall Street Journal that that's "like a wall in front of your face."
Spiegel recounts testing the prototype at Big Sur: "When I got the footage back and watched it, I could see my own memory, through my own eyes—it was unbelievable. It's one thing to see images of an experience you had, but it's another thing to have an experience of the experience. It was the closest I'd ever come to feeling like I was there again."
And that alone could be enough of a reason for Spectacles to catch on. There are also the more in the moment benefits, like your hands are free to catch a ball, pet a kitten, or jump around at a concert. Plus, you're not looking at your phone, but instead at what's actually going on.
The glasses come in black, teal, and coral, and will retail for $130.