SNL Pokes Fun at the Property Brothers with HGTV Spoof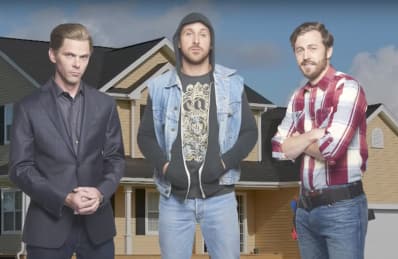 (Image credit: NBC via YouTube)
Saturday Night Live has an idea for a new HGTV show, but we don't expect it to get picked up anytime soon.
Saturday Night Live returned this weekend from its summer hiatus with the all star lineup of Ryan Gosling as host and Jay Z as musical guest. Gosling, however, put aside his charming persona to play troubled brother Tristan in an HGTV spoof show called The Fliplets.
Watch out, Drew and Jonathan, because The Fliplets are three brothers who buy, renovate, and flip houses. But while Pete and Zeke ham for the camera, Tristan is still not quite over their parents' divorce (he was the only one who went to live with their dad).
It builds from there, so you should probably just watch it—it's only three minutes.
This isn't the first show to spoof HGTV this season; in South Park's season premiere, Randy hosted a show called White People Flipping Houses where he would predictably blow out a wall to make the space more open for entertaining.