Snow Day Rituals Are Making a Comeback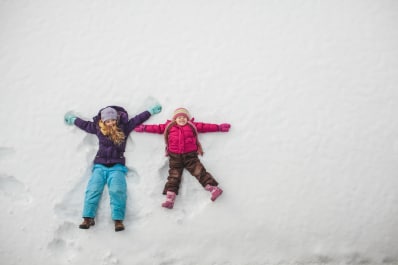 (Image credit: Hugh Whitaker/Getty Images)
It's a tradition as old as time — and with folkloric origins as strong as any old wives' tale — but thanks to social media, snow day rituals are making a comeback. (Did they ever really go away?)
Young and old, coast to coast (and even abroad), a whole new generation is celebrating the seasonal tradition that is praying, dancing, singing, or doing wacky ritualistic things in order to try to coerce the snow into giving us a day off — from school, from work, from life's seemingly ever-increasing obligations, in general.
And why do we perennially love and beg for snow days with such fervor? Allow me to paraphrase this wonderful essay on snow days by Maine to California (and back to Maine) transplant Lisa Margonelli for Zocalo, which everyone should read in full — a steaming cup of tea or hot cocoa in hand:
"Snow days are, first, a bit of nostalgia...days when the usual rules and routines did not apply, when you got a get-out-of-jail free card. And they were delicious. On snow days you are getting away with something, but it's not your fault. It's an enforced introspection, a state of cottony suspended animation."
So here's a roundup of some of our favorite social media fodder — stoking the skies with hopeful, anticipatory energy, and reminding us of both the history and randomness of our time-honored snow day rituals, as we wait with baited breath for the wintry mix of weather reports we so crave.
We could really use some snow! Everyone please join us in this dance! Or if you know what the snow god Ullr wants you could do those rituals as well! #playwinterpark #staywinterpark #exploregrandcounty pic.twitter.com/Q6BeHSFUJG

— Stay Winter Park (@StayWinterPrkCO) December 2, 2017
1. Silly Snow Rituals
First, let's get to the basics. This list from a Colorado ski resort in Winter Park is a good jumping off point for the most evergreen of snow day rituals — so commit to memory, give 'em a try, rinse, repeat. If you're highly superstitious and don't think that's quite enough to promise fresh powder, here's an extended list of 15 ways to make snow fall from their fellow snow bunnies at Teton Sports. As they say: "Individual results may vary."
It's a #snowday today in Virginia- remembering my snow dance rituals on school nights. pic.twitter.com/JdU7eYSiP4

— Catherine Cho (@Catkcho) January 17, 2018
2. Snow Dances
Ceremonial dances to try to bring about snowfall have been practiced by Native American tribes for millennia. Do your own interpretive dance as nature compels you to do, play this video of the Taos Pueblo doing a snow dance for their ski valley, or play this "Calling Snow" flute soundtrack from the Ute, to give thanks in your own or in an authentic way — and hope you get lucky enough to be blessed with a blizzard.
So I can bribe, threaten, and beg my kids all week to clean their room and nothing happens but then we get snow they want to play in and BAM the room's clean in 2 hours or less. ....I'm buying a snow machine. #MayHaveToMoveToAlaska #LetItSnowLetItSnowLetItSnow

— RecklessMomming (@RecklessMomming) January 12, 2018
3. Parental Prayers
If there is a god, if she's on Twitter, and especially if she's a parent, then these pleas may even go the farthest towards that karmic gift of a glorious glistening-white-stuff of a day. Do like this guy and embrace all the religions.
Morning commute looking like... #snowday #mnwx #OnlyinMN pic.twitter.com/wMGdd6a7sl

— Minnesota Zoo (@mnzoo) March 6, 2018
4. Funny Winter Animal Memes
We can't promise that these will help bring on a snow day, but they are proven to make our day any day so keep. them. coming. Especially of doggos zooming in fresh pow, aka the canine snow dance, plz and ty.
Despite the fact that we are in fact college students, my suite mates and I have pulled all the snow day rituals.
Inside out pajamas ✔️
Ice down the toilet ✔️
Spoons under pillows ✔️
Probably won't happen, but we gotta try, right?

— Makaila Marrison (@Justkaila_) February 21, 2018
5. College Students Need Snow Days, Too
I went to school in New Hampshire, so it was literally uphill both ways in thick, thigh-deep snow and classes would still be held, but more power to all the hard-working undergrads and their quest for cancellations. Especially those dreaded 8 a.m. lectures.
Live footage of me calling a snow day because I have pms pic.twitter.com/4pfd7vjOo3

— Jessie Rogers (@jessietron) March 7, 2018
6. Adults ALSO Need Snow Days, Too
We celebrate the channeling of even cinematic rituals, and looking to Netflix for inspiration when it comes to ways to ward off a day of work (and scary commutes) in winter. The struggle is real, y'all.
But lo, lest ye think all those stereotypes about the younger generations are true, not everyone was psyched about some of our recent snow days. In fact, one class in Memphis persuaded their teacher to help them stay on track via Facebook Live when they could have just been live-gramming a snowball fight. Sorry, professor, your kitty-cat pajamas will have to wait.