What to Do If You and Your Roommate Disagree on the Concept of "Social Distancing"
We
independently
select these products—if you buy from one of our links, we may earn a commission. All prices were accurate at the time of publishing.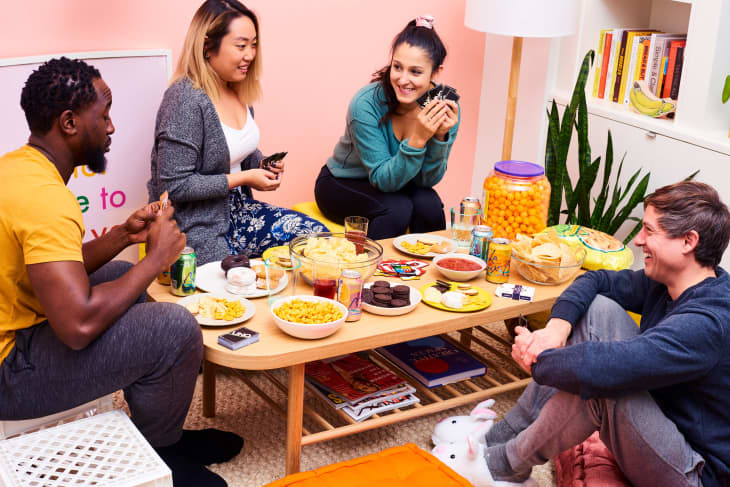 Prior to moving in together, you probably peppered your roommate with lots of questions—everything from "What temp do you like the thermostat set at?" to "What's your threshold of cleanliness?" Likely absent from your questioning, though, was a hypothetical such as "What degree of social distancing will you commit to should we experience a global pandemic that throws us into lockdown together?"
Yet here we are. Social distancing is now part of our lexicon, and you and your roommate just might have varying definitions on the COVID-19 catchphrase. Vexed, one woman asked The New York Times' "The Ethicist" whether she can object to her roommate's boyfriend coming over on a daily basis. My own Facebook feed has had its fair share of anecdotes—a friend who came home from his essential job to a party of 10 in his apartment and subsequently broke his lease; another whose roommate refused to put her Tinder dates on pause; another whose roommate refused to quarantine despite being exposed to COVID-19.
Nearly one third of adults live in a shared household, according to the Pew Research Center. Sharing living quarters means roommates need to trust one another to make decisions in the household's best interest. While the Centers for Disease Control and Prevention gives guidance for those overseeing shared housing (like property managers), there are no rules spelled out specifically for roommates. 
What should you do if your roommate is a lot more lax than you are when it comes to protective measures amid COVID-19? Here are some tips from experts to help get on the same page.
Create a social distancing version of your roommate agreement
Engineer Ansley Barnard spent eight months living in an isolated dome with other NASA scientists to simulate the experience of traveling to Mars. She told The Guardian that "talking about a potential conflict early on prevents things from getting worse." Parlaying that advice, Kendra Lehner, Communications Associate for Common, a service that manages more than 1,600 co-living and microstudio residences across the country, suggests creating a social distancing roommate agreement. 
Ideally, you'd have come up with quarantine rules early on in the lockdown. But it's not too late to bring up the conversation with your roommates.
Things to discuss include cleaning protocol (frequently touched surfaces like doorknobs and faucets should be disinfected daily), personal space boundaries, what to do if someone becomes ill, and the size of your collective social circle. Some roommates across the country, for example, have agreed to keep the peace in their own homes by typing up social distancing rules in a shared Google Doc.
Take the 'DEAR MAN' approach to frame the conversation
If your roommate has a lax approach to social distancing, a good strategy for communicating your concern would be to frame it by following "DEAR MAN," an acronym for a conflict resolution approach,  says Nikki Winchester, a clinical psychologist and owner of the Cincinnati Center for Dialectical Behavior Therapy. 
D: Describe the facts of the situation. This may be something like "you had a large gathering" despite social distancing still being in effect. 
E: Express your feelings and opinion. "I feel really disrespected because you put my health at risk when you violated orders like that." 
A: Assert what you want. It's best to be as specific as possible with what you're asking.  
R: Reinforce is when you tell the other person what's in it for them. In this scenario, it could be that you'll continue to have a good roommate relationship and you'll feel respected. 
The "MAN" part of the acronym applies to the style of your approach. 
M: Mindful. Don't ignore any attacks or criticism and avoid being a "broken record" while you're asking what you want. 
A: Appear confident. When you're making the request of your roommate, you want to be direct and confident. Maintain a normal tone in voice, and don't apologize for asking that social distancing rules be followed. 
N: Negotiate. Here's where you can negotiate with your roommate and be willing to give a little to get a little, Winchester says. "You can also turn the tables and see if they have any suggestions regarding how to resolve the issue," she says.
Get the authorities involved 
As a last resort—and if you're in an area where large gatherings are still banned—you could get the authorities involved if your roommate holds a party. Regulations vary by municipality, points out Brian Pendergraft, a landlord-tenant attorney in Maryland. "Many jurisdictions are imposing civil and criminal penalties for people who are holding large gatherings," he says. Renters in those jurisdictions who are worried about their roommates' large gatherings can report the crime to police for enforcement as they would any other crime, he says. You can do so by calling the non-emergency line.
Of course, these are unprecedented times and there's no guidebook for navigating these new situations with roommates. Hopefully, a respectful conversation helps restore harmony in your household.