This Renter-Friendly Solar Panel Hangs In Your Window and Charges Your Devices
We independently select these products—if you buy from one of our links, we may earn a commission. All prices were accurate at the time of publishing.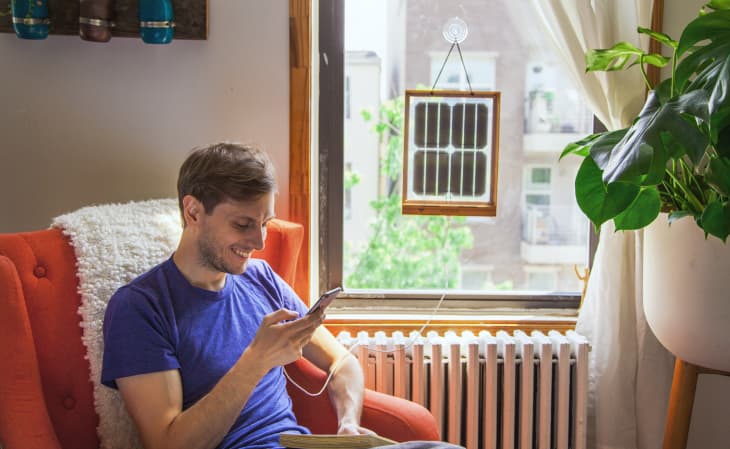 From someone who's gone through (read: mercilessly destroyed) her fair share of chargers, I'm all on board for any contraption that can keep my phone's battery from constantly hovering between 25% and "You've been warned. I'm dying now." And if this magical invention didn't require electricity to function and be sustainable, it would be love at first charge.
That said, imagine how delighted I was to stumble upon this window solar charger on Kickstarter. Simply hang it in your window to soak up eight to ten hours of direct sunlight, and you have a fully charged battery that's capable of powering up all your small devices, including phones, AirPods, portable speakers, and the like. For those among us who rent or can't install roof solar panels, this small way to be more eco-friendly is a win.
In addition to using the ultimate natural resource, the solar panel is also made from eco-friendly bamboo finished with food-grade organic mineral oil. The 10-watt, 13" X 10" panel has a transparent back cover, built-in indicator lights and a cotton cord with suction cup for secure hanging.
Created by New York City-based tech company Grouphug, this innovative solar power charging solution is super simple to use, plus it's touted for its extreme durability. In fact, the panel is made of indestructible (!) monocrystalline cells, which means it could last for 25+years (your average charger could never). And if the panel were to sustain any type of damage, its thoughtful, recycle-friendly design allows for parts to be easily replaced without having to dispose of the entire charger.
So far, the campaign has surpassed its goal with 26 days of fundraising left. If you're interested in making a pledge, the remaining options are pretty sweet: a pledge of $149 or more will get you a single solar charger panel, and $249 or more will get you two chargers at a 15% off discount. The chargers are expected to start shipping in April 2020.