Some Amazon Sellers Are Selling Products Scavenged from the Trash
We
independently
select these products—if you buy from one of our links, we may earn a commission. All prices were accurate at the time of publishing.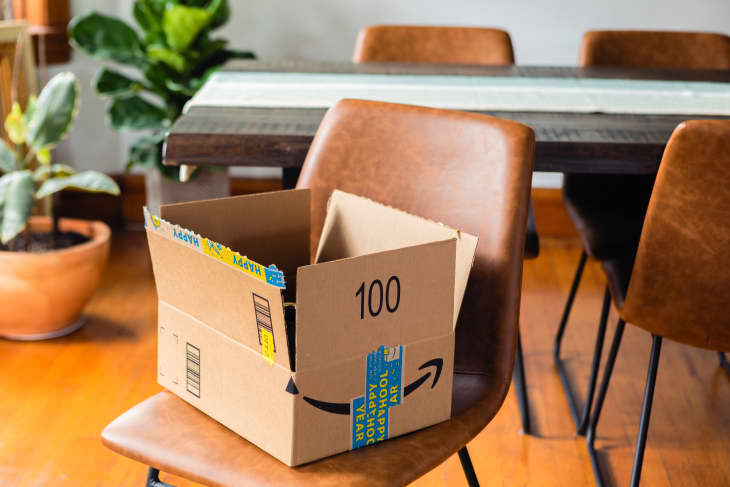 According to a new report, if you're buying products from Amazon, you may be buying trash—not as in subjectively unnecessary purchases (we stand by that sloth-shaped back pillow), but as in items that have been scavenged from trash cans and sold as if they were new.
In a December article in the Wall Street Journal, a team of three journalists reports that some third-party sellers on Amazon sell items they've found in the trash. For the story, the reporters spoke with several of these sellers, who describe searching through dumpsters, storage units, and more to find product, which they then repackage to look new.
To test the method themselves, the reporters even created an Amazon shop of their own, then searched for resellable trash from bins outside stores like Trader Joe's and Michaels (products they found included stencils and lemon curd). The reporters were able to list these items for sale in their Amazon shop without being flagged (though they "sold" them to each other so no actual Amazon customers would buy them).
As for how wide-reaching this issue is, People writes, "The WSJ sifted through 45,000 comments left over the last two years, and found that about 8,400 of them complained using words like 'unsealed, expired, moldy, unnaturally sticky' or otherwise problematic language."
An Amazon spokesperson described these to People as "isolated incidents," explicitly against its code of conduct. "Sellers are responsible for meeting Amazon's high bar for product quality," the spokesperson told the publication. 
"These are isolated incidents that do not reflect the high quality customer experience provided by the millions of small businesses selling in our store every day. Any negligent and potentially illegal activity by a few bad actors is unfair to the vast majority of exceptional sellers. We have expanded the scope of our existing supply chain verification efforts including increased spot checks of source documentation to ensure seller compliance with our policies. We will take appropriate action against the bad actors involved, including possible legal action."