HAY's Latest Collaboration With Sonos Is Music To Our Ears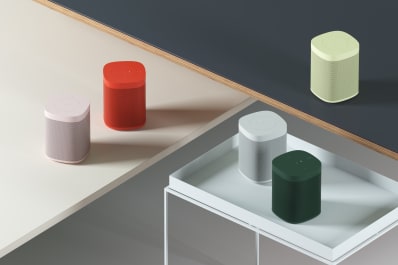 (Image credit: Courtesy of Sonos)
Danish design brand HAY is no stranger to collaborations. In fact, we've seen them release furniture projects for IKEA and a kitchen line for MoMA. Today, you can add another major brand in the home space to HAY's list of partners: Sonos, maker of wireless speakers and home sound systems.
(Image credit: Courtesy of Sonos)
The two brands have partnered to release a new Sonos One smart speaker. The exclusive HAY for Sonos Limited Edition collection will be offered in an array of bold new colors which are all perfectly in sync with HAY's distinct, existing color palette: shades of red, green and yellow.
Mette Hay, Co-founder, HAY notes, "for me color is one of the most important tools in the design process ... colors can hide completely and disappear or provide contrast – creating ranges in more colors produces more impact and opportunities for mixing items in the home. These speakers deserve to be treated like furniture; strong, independent objects that can blend in or stand out – functional accessories for any room that fit different needs and different spaces."
The collaboration came about as a result of the two companies' like-minded philosophy to create contemporary products ideal for modern living, and with sophisticated design. Like other Sonos One speakers, the limited edition HAY speakers have the ability to support Apple's AirPlay 2 for an entire home sound system.
(Image credit: Courtesy of Sonos)
To celebrate the launch of their partnership, HAY, Sonos and their additional brand partner, WeWork are taking over Milan's Palazzo Clerici for Milan Design Week (on now through April 22). The installation showcases the brands' shared vision for the future of home and work spaces. "[W]e found a partner with whom to explore the evolving role of sound as an architectural element in the home. We are excited to reveal the fruits of this collaboration at the world's most influential design fair," says Tad Toulis, VP Design, Sonos.
While the brands might be showcasing the speaker this week at Milan Design Week, it won't be available for purchase, however, until September. It will be available for $229 online, at Sonos flagship stores in NYC, London and Berlin, as well as at the HAY House in Copenhagen.