If You Only Buy One Coffee Table Book for Your Home This Summer, This Is It
We independently select these products—if you buy from one of our links, we may earn a commission. All prices were accurate at the time of publishing.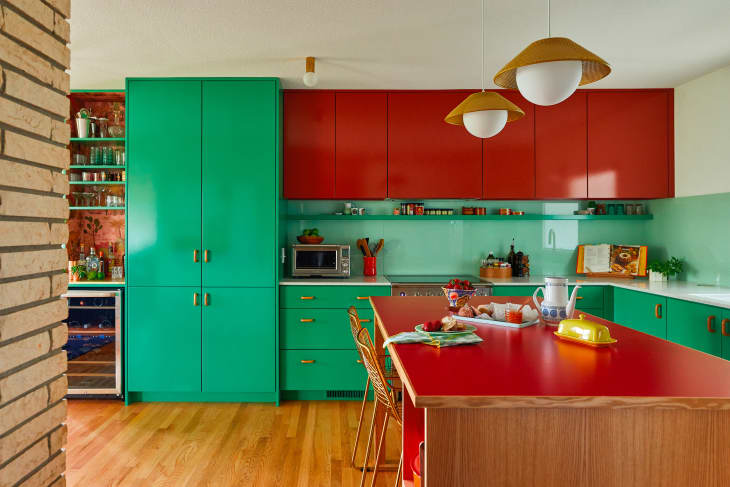 I've been following Sophie Donelson since she was editor-in-chief of House Beautiful, but it was her epic Queens apartment house tour here on Apartment Therapy that solidified my fangirldom. From what I can tell, Donelson has never shied away from color, but the saturated hues in that apartment stood out against the sea of whites and grays that were dominating design pre-pandemic. She also deftly mixed high-end pieces with more down-to-earth finishes and simple design tweaks that seriously left me thinking, "Why didn't I think of that?"
Follow Topics for more like this
Follow for more stories like this
All this is to say, Donelson's always been a trendsetter when it comes to design, and over the past few years, she's increasingly turned her attention to the kitchen. Maybe you remember the debut of her oxblood stunner of a cook space last year? Well, you can find that room and so many more — plus, tons of practical kitchen design advice and showstopping visual ideas — in her new book, Uncommon Kitchens, which is available now. 
In fact, I'd argue Uncommon Kitchens is the only coffee table book you should purchase for this season, and that's regardless of whether you're even planning on renovating or redecorating. That's the beauty behind Donelson's method. Sure, the book packs plenty of advice on finishes, fixtures, flooring choices, and layouts for those building a cook space from the ground up. But Donelson always drives home the simple, effective actions you can take to personalize your space without spending a fortune or demoing anything (in fact, she really emphasizes reuse in this book, too, as totally new kitchen construction can be so wasteful). It's these somewhat lighter touches — bold cabinet paint and funky hardware you can change down the road if you tire of them one day, unique artwork hung in an unexpected spot — that are the difference makers. 
Above all, for Donelson, getting started on a kitchen decorating project or reno begins with the understanding that a kitchen is a room — in some ways just like any other in your home. "Admittedly, this room means business: Appliances hum, counters need cleaning," Donelson writes in the book. "There's always work to be done. And maybe for that reason, the kitchen often suffers from a lack of the imagination and playfulness we lavish on other rooms. But the sheer number of hours we spend here is the argument for decorative flights of fancy. If you're going to spend time there, make it a place that feels joyful and nourishing, not simply organized and clean." Amen to that!
To arrive at your version of joy and nourishment in your own kitchen, Donnelson's book also packs page after page of eye candy from the likes of Instagram's Eva Chen to a Gucci-inspired cook space designed by up-and-comer Victoria Sass of Prospect Refuge. There's also advice from home heavy hitters like Justina Blakeney, and Athena Calderone. Trust me: If you've ever looked at your kitchen and felt like it was lackluster, this is the book you need to take it to the next design level, whether you own or rent — or whether your budget is big or teeny-tiny.

Buy: Uncommon Kitchens, $36 (originally $40)