SoulCycle Just Opened a One-of-a-Kind Studio in Manhattan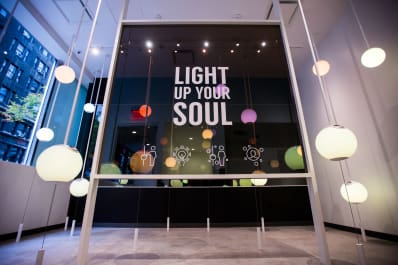 (Image credit: SoulCycle)
I've known about SoulCycle for quite some time, but until last week never understood why riders were so passionate about its spin classes. Don't get me wrong, I love working out. I've been living the Elle Woods "endorphins make you happy" mentality for years. I'm an Equinox enthusiast — so much so that I've subsidized my last two months of membership dues on referral credits from friends I've convinced to join. So when I had the opportunity to try a class at SoulCycle's newest New York City location, I knew this would be my chance to really find out. This location isn't just an average studio though; there is a unique aspect to it — one that involves design. And hello, fitness + design = the perfect combination.
Besides the usual yellow, white and neon interior, this studio has an interactive installation of glowing orbs in the lobby. Riders (and passersby) can touch them to see a reflection of their "soul." The orb color change is created by a light pattern unique to each rider's touch, interaction and mood — and therefore will transform pre- and post-ride, emulating the energy shift a rider experiences during class.
To learn more about the installation and to get some more intel on the studio's overall design, I interviewed SoulCycle's VP of Design, Alan Cooke, who joined the company in the summer of 2011 after leaving a luxury architecture and interiors firm.
Can you share a little bit about the inspiration for the SoulCycle studio design in general?
Alan Cooke: When I joined SoulCycle, we were operating seven studios and we had already done an amazing job testing and proving program, materials and the overall experience. Our clean, white and minimal palette took many forms in those early iterations, but we continue to draw inspiration from the likes of John Pawson, Japanese architecture and minimalism in general.
What was the inspiration / reasoning for bringing the orbs to this new location?
Alan Cooke: SoulCycle has never been just about the workout, it's truly a 360-degree experience. As soon as our riders walk in our doors, we look for any special way to connect with them. We love to incorporate art into our studio spaces in any way possible, and this installation is the very first of its kind across our 82 locations in North America.
Do you have plans to bring them to other studios?
Alan Cooke: Not at the moment! Just as with any other innovation we introduce, we're looking forward to seeing our riders' reactions as we think about other experiences we can create in future studios.
What is your favorite aspect of these orbs?
Alan Cooke: My favorite aspect about the orbs is how interactive they are. In addition to creating beautiful technology, we've taken into consideration our riders and how SoulCycle affects each of them. Offering riders the chance to engage with the orbs gives them another unique moment to reflect on their mental and physical growth, before and after taking a ride.
From a design perspective, what do you think SoulCycle provides riders that other studios don't?
Alan Cooke: From checking in at the front desk to sweating inside on a bike, our studios are tailored to offer our riders a completely curated experience. Along with the designs in each of our studios, this unique installation is simply an extension of our focus of bringing riders a special in-studio experience that coincides with our own unique take on artwork.
The distinction Alan notes about SoulCycle's tailored experience, in the ride and design, are the two factors I too identified after my visit as the passion points for riders. The brand has not only built their following on a class that literally kicks your butt (mine was most definitely sore the day after), but more importantly has recognized the public's desire for a space that embodies and reflects their ride experience. As you leave class you feel uplifted. And, therefore it is no surprise that "uplifting" is what Alan said when asked to describe the design of the studio's interior in one word. The bright yellow and white color scheme mimics your emotions, working in harmony to instill the positive experience you just had during your class.
While I am not sure I have become a cult-follower quite yet (Equinox you'll always have my heart), I will say that SoulCycle has created a formula that effectively combines fitness and design. As for the orbs, I did find the installation interesting, however I'm not quite sure I trust SoulCycle reading my soul — I'll just rely on them to help lift it up with a kick-ass class.