If You'd Break Up with Your Partner if Your Pet Didn't Like Them, You're Definitely Not Alone
We
independently
select these products—if you buy from one of our links, we may earn a commission. All prices were accurate at the time of publishing.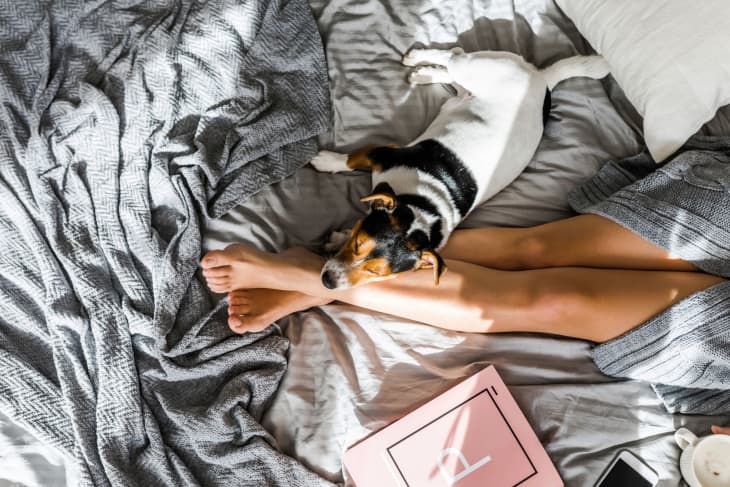 If your dog or cat didn't like your significant other, would that doom your relationship? It seems that's the case for the majority of people, according to a recent survey. 
We're all spending more time at home than ever, and that means extra attention for Fido or Felix. But in some cases, pets may not be so keen on seeing you around all the time. Or more specifically, those who hang around with you. According to a new survey conducted by furniture company Joybird, 63 percent of pet owners said they would break up with their significant other if that person was not liked by their pet.   
The survey, which asked 1,000 pet owners across all 50 states and across a wide variety of demographics a variety of topics, had some interesting data when it comes to the changing waves of pet ownership. It found that 83 percent of respondents have thrown their pet a birthday party, and 62 percent have a dedicated social media account for their pet. 65 percent of Gen X pet owners said they give their pet CBD gummies either often or very often, and a whopping 80 percent said they share their food with their pets (here's what's safe and not safe to feed your dogs and cats). Hey, in increasingly stressful times, who wouldn't want to treat their animals like the special treasures they are?
Even if you don't splurge on birthday parties and bliss-inducing dog CBD, it's no secret that it's pricey to be a pet owner, even if you're one who only shills for generic dog chow or the routine vet bills. When it comes to how much money they spend on their pet, 39 percent of respondents said they drop $500 to $1,000 per year.  30.3 percent of respondents replied $1,000 and $1,500 per year, and 10.6 percent went even higher with $1,500 to $2,000. Just 4.3 percent said they went even higher, guessing $2,000 or more as their annual expenses related to their pet. Whether it's just the occasional chew toy or a monogrammed cashmere sweater (yes, it's a thing) animals sure manage to scoop up a chunk of your bank account.
The survey also looked at location as an indicator of how much we spoil our furry friends. According to the results, Maryland has the most spoiled pets in the U.S., with a rating of 3.26 out of 5 points. Utah, West Virginia, and Massachusetts followed closely behind, with rankings of 3.10, 3.09, and 3.06, respectively. With a national average was 2.83, we're not sure what's going on in those particular states, but it's safe to say that location doesn't indicate just how much we love our animal friends. As for the least spoiled pets, Montana, New Mexico, and Hawaii scored those spots. The rankings were determined by asking pet owners to answer questions related to diet, toys and treats, grooming, and overall spending, with answer options representing a scale of 1 through 5, with 1 being "least spoiled" and 5 being most.