Here's What You Need to Know Before Spraying Your Yard for Mosquitoes
We
independently
select these products—if you buy from one of our links, we may earn a commission. All prices were accurate at the time of publishing.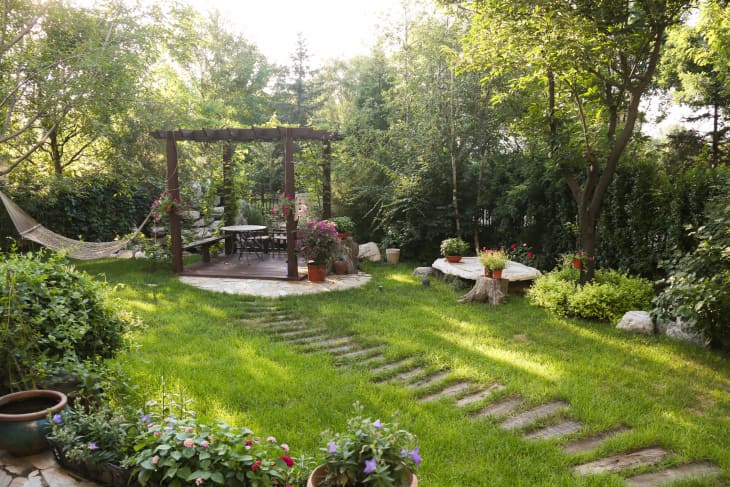 Every year in my neighborhood in Chicago, a local company sprays for mosquitoes. And up in the suburbs, my brothers and my parents all have their lawns sprayed every year. The treatments keep mosquitoes out of their yards, creating a barrier that either repels the bugs or kills the larva in the yard — or both. Depending on which company you go with, the sprays could contain anything from organic chemical-free bug spray to DEET-infused chemical formulas; you might want to spray if your yard is overrun with mosquitoes, or you might not want to if you're concerned about chemicals. 
We all have pets and both my brothers have children, so I started to wonder if anything in the spray might be cause for concern. The quick answer? No, mosquito treatments can be safe for your lawn and family, as long as you take some very simple precautions. Here's what pest experts told me to do.
Time the treatment carefully.
You want to be strategic with the time you get your mosquito control treatment, says Natasha Oldham, general manager at MissQuito, a women-led mosquito control company — otherwise it won't be as valuable as you expect.
"It takes about an hour for the treatment to dry, and you will need to stay off your grass during that hour," Oldham says. "The treatments start working immediately, but it takes about 24 hours to be fully effective. So, if you're spraying your yard in preparation for an event, you'll need to treat mosquitoes at least one day before."
If you're using a mosquito spray with synthetic pesticides (ask the company to be sure!), then you'll need to take some simple steps before the treatment. First, bring your pets inside and close all your windows and doors, says Ben McAvoy, cofounder of Insectek Pest Solutions. 
Then go outside for the next step. "Clear the area of any clutter or items that could be used as harborage or keep standing water," McAvoy says. "Cut back trees and plants to decrease mosquito resting places."
And if you have a vegetable garden, cover it or let the company know not to spray in that area. Synthetic pesticides probably aren't something you want to eat.
Wait before going outside.
Oldham and McAvoy both note that mosquito treatments are safest when they're dry. So don't let your pets — or anyone in your home — outside and onto the grass until it's completely dried, which should take 30 to 60 minutes.
After your yard is treated, you'll want to take some extra steps to ensure mosquitoes aren't drawn back to the area.
"Mosquitoes like shady, moist areas," Oldham says. "Keep your grass cut. Clean up piles of lawn debris. Empty any containers of standing water like dog bowls, empty flower pots, and children's toys. Clean your gutters."
You can also get mosquito traps and netting to help the spray along. McAvoy notes that some mosquitoes have a range of one mile, so they could still come into your yard. It's important to set expectations for that and to help prevent them on your own.
And remember, your yard may not be a great candidate for mosquito spraying anyway. "If you have very little vegetation or foliage on your property and it is devoid of shelter areas for mosquitoes, it might not be the most effective treatment, as the mosquitoes are most likely flying in from surrounding areas," McAvoy says.