Spring Flower Cheat Sheet: 9 Gorgeous Vase & Bloom Pairings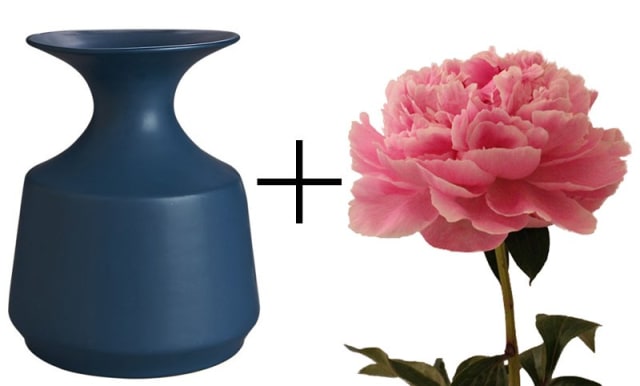 Despite the fact that I worked as a floral designer for four years, I currently own one vase. Someday I'll have the perfect vessel arsenal so I'll always be prepared, no matter what flowers are showered upon me (or that I cut myself from the yard). If you're looking to expand your collection, here are some ideal shapes and colors to pair with different types of blooms.
Curvaceous Vase (CB2, $29.95) + Single Peony (Fifty Flowers)
Peonies are big, beautiful, dramatic and, sadly, only easily available for a short time (at least it always feels very fleeting!). Make the most of a single bloom with a striking, dark gray, bold beauty of a vessel - this color combo is all about vintage style glam.
Bud Vase (Heath, $24) + Scilla (Grower Direct)
Spring is the time of teeny, tiny flowers, so a wee bud vase is essential for properly showcasing spring ephemerals such as scilla, snowdrops, or lily-of-the-valley.
Tall Narrow Vase (CB2, $59.95) + Parrot Tulip (Sun Valley Group)
French and parrot tulips are so spectacular, they deserve to be appreciated one at a time— plus, they tend to be pricy. A tall, narrow-mouthed vase will support their stems while allowing them to arc gracefully.
Jug (IKEA, $14.99/set of 2) + Wildflowers (Emily Henderson)
A sweet country-style jug perfectly complements a charmingly disheveled handful of just-picked (or just-purchased) wildflowers.
Single-Stem Vase (IKEA, $0.99) + Narcissus (Fifty Flowers)
As discussed, narcissi don't play well with others, so give them each their own space— all the better for you to appreciate their daintiness.
Tall Rustic Vase (Target, $39.99) + Forsythia (San Diego Wholesale)
A sturdy, hand-thrown (or at least hand-thrown-looking) vessel looks wonderfully rustic when filled with forsythia, cherry, quince, apple, almond, plum, dogwood, or magnolia branches.
Wide-Mouth Vase (Dwell, $425) + Lilacs (Grower Direct)
A short, squat vase looks incredible when it's overflowing with frothy, fragrant blossoms.
Earthenware Vase (Dwell, $50) + Pussy Willow (Nettleton Hollow)
A strong, linear vase in an earthy material plays well with non-flowery branches- spring doesn't have to be all fluff, after all.
Matte Black Vase (Michele Varlan, $24) + Hellebores (RHS)
Every flower in the world looks amazing in a black vase- but especially the witchy hellebore, which comes in an array of cream, salmon, chartreuse, and black.
How many vases do you own? Which types would you like to own? Or are you purely a stick-'em-in-a-jam-jar type of flower arranger?
Apartment Therapy supports our readers with carefully chosen product recommendations to improve life at home. You support us through our independently chosen links, many of which earn us a commission.