Amazon Reviewers Are Obsessed with These Stained Glass Light Bulbs, and It's Easy to See Why
We
independently
select these products—if you buy from one of our links, we may earn a commission. All prices were accurate at the time of publishing.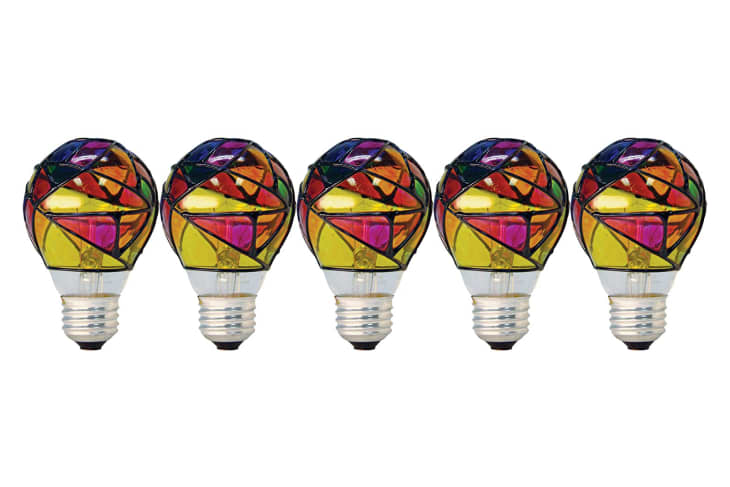 These days, most of us will do anything to make our space more comfortable and inviting. Home is where the heart, the workspace, the home school, and the zen zone are, after all. And mood lighting is key to crafting a calm and welcoming space. If you've yet to discover the beauty that is stained glass light bulbs, prepare to be amazed.
GE currently sells a light bulb that mimics the effect of sunlight streaming through a colorful stained glass window. It even has faux lead separating out the shapes of color, which creates a viewing experience one can only describe as holy.
Each bulb is hand-painted to get that authentic stained-glass look, and that attention to detail is reflected in the price. According to Amazon reviewers, the GE Stained Glass Light used to be available at Target for around $3, but they're now harder to find and more expensive when they do pop up on the market. Amazon is currently sold out of the 1-pack option, but buyers can choose to go with the 5-pack for about $45.
"I got one for my lamp at work and both of our living room lamps and we fell completely in LOVE!!!!" One Amazon buyer wrote, giving the bulbs a five-star rating. "(I get tons of comments on the one at work too). The lighting it gives is so cozy and inviting, we could never go back to a regular bulb."
Don't get too discouraged if you can't get your hands on one of these stained glass bulbs just yet. Amazon also sells a fairy light filament variety of bulb that turns every light fixture into an aesthetic masterpiece and looks just as good off as it does on.