Stanley Just Released a New Collection That's Perfect for Outdoor Entertaining — Get It Before It Sells Out!
We
independently
select these products—if you buy from one of our links, we may earn a commission. All prices were accurate at the time of publishing.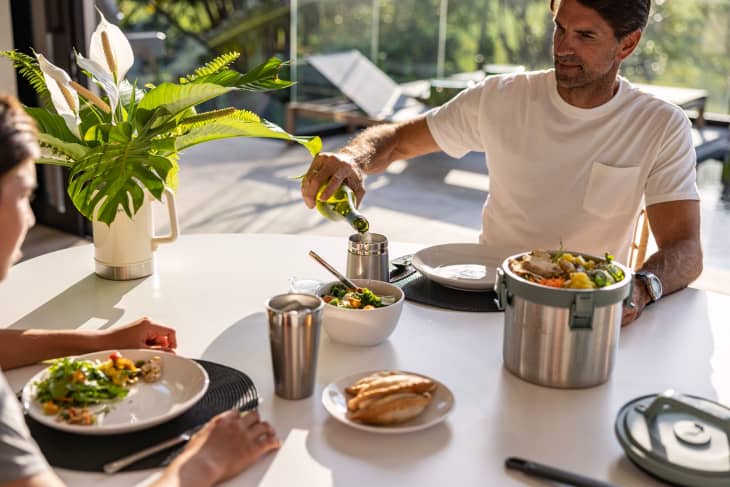 Well, folks, we made it through the winter. (If you're in parts of the world where you're still shoveling snow, I apologize.) However, getting your home ready for the warmer months of spring and summer is key, and the easiest — and most serotonin-boosting — way to start your spring cleaning refresh is to, of course, snag some cool new gear for the kitchen. Lucky for you, today, editor- and reader-favorite food and drinkware brand Stanley just launched its new Outside In collection. The stylish line does exactly what it says: It brings the tough, rugged products Stanley is known for into your home's indoor and patio spaces in mellow new colorways that are perfect for spring. It's also geared toward hosting, with awesome pieces that might not be on your radar, but are both super-durable and made with the highest-quality materials. There's a reason Stanley products sell out so quickly — they're awesome! 
One of the best parts about the Outside In collection is that it features soft hues that are perfect for the change in seasons, including Cream Gloss, Charcoal Glow, and Stainless Steel, with products ranging from hydration and barware to café essentials, servingware, and more — including some Stanley fan favorites. Of course, you'll be able to snag the iconic GO Everyday Wine Tumbler, the Trigger-Action Travel Mug, and the Legendary Camp Mug in the new colors, but we're also keeping an eye on the more niche products that seem especially good for warm weather entertaining, dinner parties on the deck, or just hanging out in the living room. Just imagining pouring a tall pint from the Classic Stay Chill Beer Pitcher (or filling it with a delicious sangria recipe from our sister site Kitchn) gets us in the spring spirit. Its classic design and stainless-steel construction are perfect for both picnic tables and kitchen tables, and it'll keep your brews cold for up to 2.5 hours. 
Naturally, you'll need a vessel to contain all of that refreshing goodness, and while we absolutely adore the Stay Chill Beer Pint — there's nothing worse than warm suds — we're all about upgrades this spring, which is why we're opting for the Classic Bottle Opener Beer Stein. Say goodbye to the days of searching for a bottle opener (or having to MacGyver one out of a lighter), since this smart beer stein has one built right in. The stainless-steel, flip-up lid also keeps the cold and carbonation going for up to eight hours — not that you'll take that long to polish off your pint. Plus, with that classic design, you'll be able to pretend you're in a sunny German Biergarten right from the comfort of your backyard. 
So, if you're hoping to refresh your home this spring, there's no better way to get started than by snagging some forever pieces — trust us, they'll outlive you — from Stanley's new Outside In collection. If nothing else, it'll be a great excuse to have a few get-togethers so you can show off your sweet new gear! Just make sure you act fast because Stanley products are famous for selling out quickly.