Staub's Steam Grill Pan Is the Secret to Tender, Juicy Meat — and It's 70% Off
We
independently
select these products—if you buy from one of our links, we may earn a commission. All prices were accurate at the time of publishing.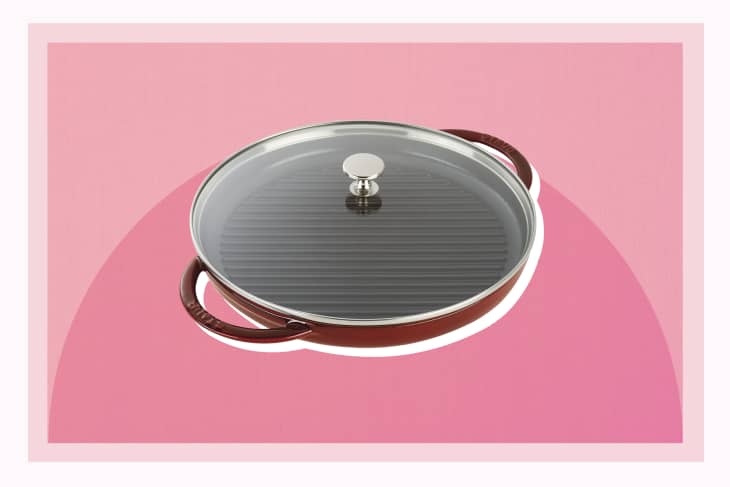 Whether you're preparing burgers, kabobs, or vegetables, grilling will give your food a ton of flavor. But even the most seasoned grilling pros (pun intended!) will tell you that moisture loss is all but guaranteed when you cook over high heat. That sizzle you hear? Flavorful juices wastefully dripping through the grates. But Staub's 10-inch steam grill pan is here to change all that. Besides letting you whip up all your backyard favorites from your kitchen, it features a domed glass lid that helps retain moisture for truly tender and juicy meat. As if that weren't enough, the pan is currently 70 percent off, so you can snag it for just $99 (normally $329).
The key to getting the most out of the cast-iron steam grill is to understand how to combine dry heat with steam. Once the pan gets screaming hot on your stovetop, the extra tall ridges will create flavorful charring on your food, making it ideal for crispy paninis or a side of asparagus. But for truly succulent meats (particularly lean cuts like chicken breasts or pork chops) and seafood, you'll want to use the lid, adding a splash of stock, sauce, wine, or lemon juice for steaming. This not only helps food retain its natural juices but also infuses them with flavor.
The cast-iron surface comes fully pre-seasoned, so it's ready to go right out of the box. Whether you cook with or without oil, food will release and turn easily once it's developed a nice crust. The pan is oven-safe up to 500 degrees Fahrenheit, and its two generous handles make it easy to transfer from the stove to the table for serving. Another major pro? It's dishwasher safe, so cleanup is super easy.