The Storybook-Style Home Is Perfect, and I Will Die on This Hill
We independently select these products—if you buy from one of our links, we may earn a commission. All prices were accurate at the time of publishing.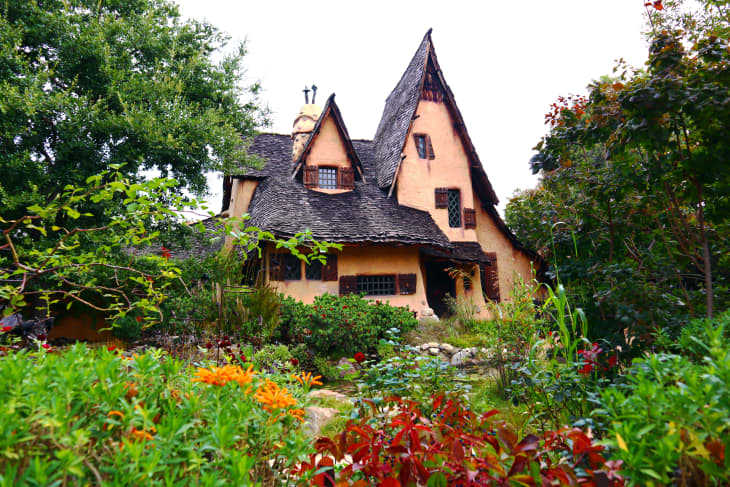 If life were a fairytale, no other dwelling could offer a more idyllic setting than that of a Storybook-style home. The Storybook style is characterized by dramatic, steep pitched roofs, window boxes, gables dormers, and basically anything else you picture when thinking of Snow White's home. Thanks to a fanciful mix of features, no other residential structure offers the same kind of coziness and enchanting theatricality to make it feel as though you're living within the pages of a fable.
In case you're thinking this style of home is too hokey for your level of sophistication, consider this: There's a reason #cottagecore swept across social media during the height of the pandemic. Its quaint aesthetic offered a soothing salve for the harsh uncertainties of life in lockdown. While the trend encompasses many facets of rural cottage living, it's all born out of the same nostalgia for a bygone era.
For more content like this follow
While most people can't exactly drop everything and move to the Cotswolds, a Storybook home can offer a glimmer of that fantasy. What it has the capacity to do better than any other architectural style is elicit a universally-prized emotion: joy. But to better appreciate its charms, let's first scroll back in time to see just where the style came from and how it evolved into what it is today. 
A Mix of History and Hollywood
The Storybook style of home — also known as Fairy Tale, Disneyesque, Hansel and Gretel, and Provincial Revival — was initially imported into America by young soldiers returning home from the first World War. Some of them went on to become architects and builders. Having been charmed by the medieval structures they encountered in European villages, they began incorporating features from the Old World into their own designs. 
Simultaneously, the movie industry was also thriving in the early 1920s, and there was a high demand among the movie-going public to see exotic sets showcasing faraway lands. Hollywood set designers and art directors borrowed elements from various folk architecture in Europe to create cinematic abodes, oftentimes with exaggerated elements that bordered on cartoonish. The statement-making style drew such interest that even movie stars began commissioning to have their own homes built in this style.
The trend eventually caught on and spread from the silver screen to cities across America. At one point, mail-order catalogs began offering home-building kits in the Storybook style. By the Great Depression, however, the style had lost its steam, yielding to simpler, more cost-effective building styles. Because of its limited run, the Storybook style of home is pretty rare to find today.
The Overall Style Can Be Flexible
So exactly what elements make up the Storybook style of architecture? It turns out there are no strict rules, and the style is determined more by the overall feeling of enchantment it evokes rather than by a standard set of features. In fact, the style and size can vary widely. Some Storybook homes are considered cottages with limited footprints, while others are large castle-like structures with ample square footage. Some have thatched roofs whereas others are shingled. One home may contain extensive stonework on the facade while another may sport the half-timbered look. 
Among the more common features you might find include an exterior built out of brick, stone, or stucco. Quite often, it will contain faux distressing to make the home appear as if it has aged over time. The roofline is generally steeply pitched and/or curved, usually asymmetrical, and commonly has multiple gables and a turret. Windows and doors are often rounded and decorative, with dormers, shutters, and window boxes adding to the curb appeal. Landscaping typically includes climbing plants like ivy, wrought-iron, stone walls, and winding paths.
As for the interiors of Storybook homes, they often contain curved or sloping walls with a hand-plastered finish. Exposed wood beams, stone walls, large hearths, and cozy nooks are also common interior characteristics. In other words, there's no shortage of rustic charm or warm and fuzzy vibes.
Adding Whimsy to Everyday Life
The Storybook style breaks the modern, contemporary mold by embracing playfulness and personality. It's the kind of house that evokes a sense of wonder and whimsy, stopping you in your tracks and commanding you to study its intriguing appearance. It may even give you pause long enough to imagine yourself living in such a place — what kind of mythical character would you cast yourself as? In this sense, it's very much a house that brings out the dreamer in me. 
Even if you're a lover of contemporary design and may write off this style as one for hobbits and princesses, surely you'll agree that no other house can infuse a bit of humor and magic into the mundanities of modern life quite like this one. And while life isn't exactly a fairytale, living in a Storybook home can certainly make it feel more like it is.