Style Side-By-Side: 2 Sisters, 2 Studios, 2 Different Design Directions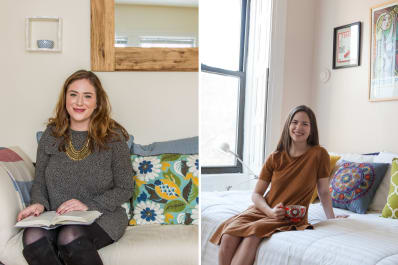 Francesca and Alexandra are sisters, but they share more than just genes. They both recently experienced moving into small studio apartments! Alexandra is in 350 square feet in New York, and Francesca is in 380 feet in Minneapolis. Their current homes — much like their childhood bedrooms growing up — reflect each sister's individual personality. Alexandra, the oldest, has always loved cheery colors. Francesca, the youngest, favors calmer spaces bathed in cool colors.
"I laugh because the styles of our childhood rooms did really reflect our different personalities, even if we didn't realize it at the time! I've always been a lot quieter and more introverted than my sister...," writes Francesca. Adds Alexandra: "At our core we are very similar, but personality-wise we can be pretty different, and I think that shows through our style preferences."
---
"Even in each other's apartments, we feel at home."
---
Both of their homes are accessorized with things found while traveling, like jewelry boxes, paintings, books, mirrors. And both of their homes are heavily influenced by their parents.
"Our father went to art school, and still paints regularly. Three of the paintings in my apartment are by our dad, and both of us have one of his paintings of our childhood home on our walls," writes Alexandra. "Our mother always urged us not to spend on clothes when we traveled, but instead look for timeless pieces to decorate our future homes."
Their mother is Ecuadorian and is inspired by the country's culture. "Following her example, I have made sure to decorate my apartment with items I have collected while visiting Ecuador," says Francesca.
The sisters actually moved only a couple weeks apart (Alexandra even helped Francesca find her place!), and they've both enjoyed decorating their studios.
"Even in each other's apartments, we feel at home."
---
Did you have to downsize a lot to move into a studio apartment?
Francesca: I actually didn't have to downsize too much before moving into a studio because I had already become accustomed to living in small spaces, often with others, while in college! I also can't stand clutter, so I've learned how to become a minimalist.
Alexandra: Not all my furniture fit in the new apartment, but the closet is much larger, so I think that's a fair trade.
What's the best thing about living in a studio apartment?
Francesca: It's very manageable! I appreciate how quickly I can clean and organize the space.
Alexandra: You realize how little space you need to feel happy and at home.
The worst thing?
Francesca: It can be difficult to have friends over or host a party in such a tight space; it's cozy!
Alexandra: It can get crowded pretty easily, so I don't have guests over as often as I typically would. But I love having one or two friends over for dinner.
What's the best design advice you've ever gotten from your sister?
Francesca: I've definitely followed her advice to use posters and vintage illustrations to decorate the walls of my studio.
Alexandra: Francesca has a knack for turning her home and bedroom into a place that's relaxing and calming. I tend to prioritize design over comfort and functionality — I temporarily considered turning my bed into more of a couch without a comforter, and thankfully realized that was silly. The way she decorates is very inviting, and I've tried to incorporate more of that into my home.
What have your parents taught you about the art of making a home
Francesca: Design your home in a way that makes you happy! My parents have also taught me that you can create a new and improved home just by doing simple things like refurbishing older items or rearranging and rethinking the space.
Alexandra: My parents taught me to care about every piece I bring into my home. When we travel, my family has always preferred to pick up decorative items for our homes rather than clothing or knick-knacks. I love that I can look around my apartment and be reminded of places I've traveled, like Ecuador, Spain, Greece and Ethiopia.
Does anything surprise you about your sister's home or style?
Francesca: I was really surprised when I found out that we both decorated our bathrooms with paintings we found while traveling together in Greece!
Alexandra: We both unknowingly hung a small painting from Greece in the same spot in our bathrooms. We got them together when we were traveling just the two of us. It was one of my favorite trips and fondest memories with her.
If you could "steal" any piece of home decor from your sister, what would it be?
Francesca: I would steal her desk. I think it's a great piece of furniture and I really love the color. I would also steal her typewriter!
Alexandra: Her pug salt and pepper shakers.
---
Thanks Francesca and Alexandria!