My Seemingly Boring Suburban Home Helped Me Flourish During Quarantine
We
independently
select these products—if you buy from one of our links, we may earn a commission. All prices were accurate at the time of publishing.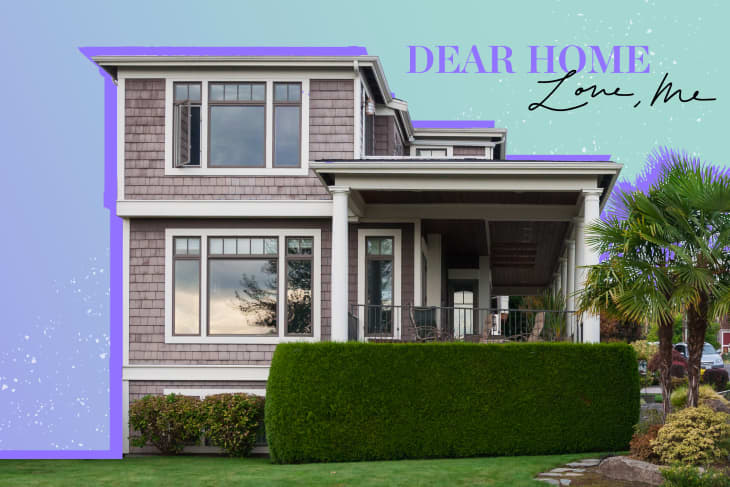 There's probably never been a calendar year where we've spent more time at home than this one. This story is part of Apartment Therapy's Love Letters to Home series, which thanks our homes for all they've done for us in 2020.

You can read more love letters here before writing one of your own.
To my sweet Kirkland home, 
I was wrong about you.

During my 20s I lived in a handful of Seattle apartments, never staying in one spot for long. Though downtown living overwhelmed me at times, it's hard to beat a city with a coffee shop on every corner. I'd made it to my dream city, and I felt proud of every shoebox-sized apartment I rented.
Eventually, though, I needed something more laid-back. I wanted to stay in Seattle's orbit, but just far enough away that I'd no longer worry about being startled awake at dawn by a Speedo-clad saxophonist outside my building. (Yes, that happened.)
Even though I was ready for you, I admit I felt hesitant when my boyfriend and I came to see you for the first time. I loved your blushing cherry blossom tree, your natural light, and most of all, I loved that you offered us room to breathe after years of studio apartment living. You were a decidedly grown-up choice. Still, I was afraid to give up my exciting Seattle life.
That's why when we moved in, we never really "moved in." I made you functional, but I never took the time to decorate you. I thought I'd get bored and move again after a year, so why bother? That's where I was wrong. 
When the pandemic hit, you came through for me in ways I never expected, and I am forever grateful. You gave me three powerful things. 
A place to heal. When I had knee surgery two months into quarantine, you made the whole ordeal smooth and comfortable. You gave me a little home gym where I could sweat out my pre-surgery anxieties. Your big windows let sunlight and nature into my room while I healed. After a couple weeks of bedrest, my first trip to the living room felt like going somewhere. I started to appreciate you more.
A stronger relationship. I'd heard horror stories about cohabitating couples annoying each other or even breaking up during quarantine. Had we stayed in our old apartment, that might have been us, too. Instead, you helped us thrive as a couple by giving us each a dedicated space for solitude.
For me, it's my home gym where I flow through calming yoga poses or meditate to my favorite songs. For him, it's his home office where he spends hours gaming with friends or building computers. This time apart gives us the energy and space we need to enjoy each other's company the rest of the time. You've given us peace.
A steady stream of inspiration. My small business grew during quarantine, and I credit you for that. You make me feel inspired. As a classic Cancerian, I need to feel cozy and relaxed in order to work. I've never been able to focus in an office building, but thanks to you, I have the coziest home office that motivates me to create. When I lose focus, I grab some treats from the kitchen and teach our dog a new trick or two. At the end of the day, you don't judge me when I finish up work from my couch, shrouded in blankets. With your support, I built my dream business this year without ever leaving home. 
So, to my benefit, I was wrong about you. You've given me so much more than I ever expected, and I really, truly appreciate you. You bring us comfort, togetherness, and boundless inspiration. I think it's time to give you the glow up you deserve. 
With so much gratitude,
Candace