Summer Must-Haves Under $50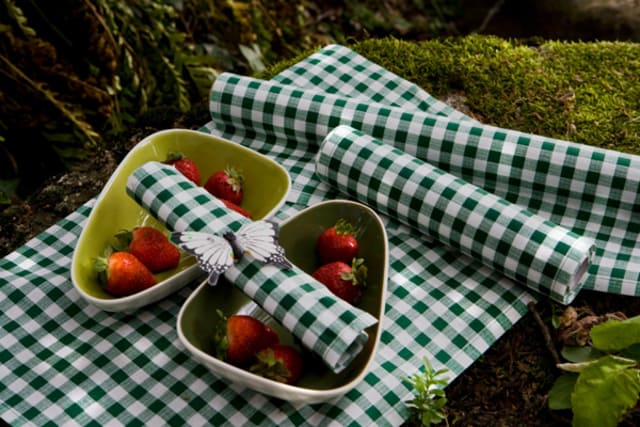 Happy Memorial Day weekend! We hope you're enjoying some R-and-R, which might include a little summer shopping. To get you inspired, here's a fun list of inexpensive finds for the backyard or the beach.
ModCloth
Their $11 Day to Night Solar-Powered Lanterns charge up during the day, then glow at night. Made of vinyl, they can survive outdoor weather, and they come in four colors. Use them on a deck or hang them from tree branches.
Crate and Barrel
Weber's Smokey Joe Grill ($45) is an apple green charcoal cooker that can easily be carried to the beach, the park, or a camp site. 14.5 inches in diameter, it's made of steel and aluminum with an enamel coating.
Alice Supply Co.
This online company makes ultra-bright garden and household tools in pinks, greens, and yellows. Their $46 kink-resistant, 25-foot Garden Hose comes with 4 different handle options: striped, camo, Union Jack, or Trina Turk.
Plastica
The name of Marimekko's Socks Rolled Down Tumblers screams summer. Made from mouthblown glass, these come in five colors, and you'll have them forever (as long as you're not the clumsy type). A set of 2 sells for $35.
Built
Their market bags are made from durable neoprene and come in designer colors and patterns. They have a line of Alexander Girard patterns, as well as bright stripes, dots, and other patterns. Shown: Spicy Relish Tote, $30.
CB2
Need a new summer throw that can double as a blanket at the park or the beach? CB2's Striped Woven Lobsta Throw is affordable at $40. It's made from 100 percent cotton, and comes in banded red against a woven white background.
Igloo
For 60 years, they've made coolers for picnics, camping, and outdoor events. Their $16 Playmate Mini is a classic cooler that you can carry around all summer. It holds six 12-ounce cans with ice, and it comes in several colors.
Areaware
New this year and recently launched at ICFF, these $36 Bow Bins by Cordula Kehrer come in five styles and are produced in the Philippines via fair trade NGO Preda. They're currently available for pre-order at Areaware.
The Future Perfect
The MYdrap Cotton Placemats come on a roll of 12 and sell for $40 per roll. Made of 100 percent cotton and available in seven styles, they're easy to roll up and store, so you can pack them up in a picnic basket.
Photo: MYdrap Placemats